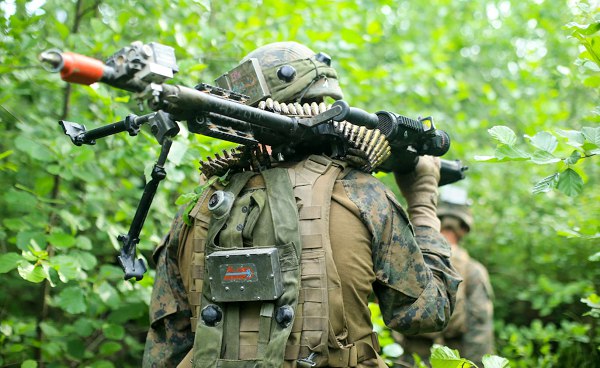 Skrunda, Latvia (April 30, 2022): The U.S. Marines have landed… in Eastern Europe.
In this photo by Lance Corporal Angel Travis, U.S. Marines from 1st Battalion, 6th Marines maneuver through a forest during Exercise Saber Strike, an annual field training exercise to integrate American military units with the armies of Estonia, Latvia, Lithuania, and Poland in any potential conflict with Russia.
All four of these countries have, at some point in their history, felt the heavy boot of Russia on their collective necks. Each fell under Soviet occupation after World War II,
enduring a cruel dictatorship for 60 years. Each surviving attempts to wash out its domestic population and beliefs with imposed massive influx of an outside population. Each has joined NATO to guard against further Russian aggression and are on the front lines should Vladimir Putin expand his war on Ukraine. America is committing elite units, like the 6th Marines, to reinforce our friends and to counter potential enemies.
Perhaps the Marine Corps' most storied unit, the 6th Marines fought the famous Battle of Belleau Wood in France during World War I and earned the nickname "Devil Dogs" for their ferociousness in combat. Every Marine knows the immortal words of Captain Lloyd Williams during this 1918 battle; "Retreat, hell we just got here!" (There is another famous quote, though not suitable for a family newsletter.)
The Devil Dogs went on to fight at Guadalcanal, Tarawa, and Saipan in the pacific during World War II and most recently in the war on terror in Iraq and Afghanistan.
These fine warriors stand ready to defend America and NATO from Russian aggression. They endure long deployments away from their families and we, as patriotic Americans, must do all we can to support them. Please take a moment, right now, to go to our secure donation page to contribute:
SupportOurTroops.Org/donate/donate-online