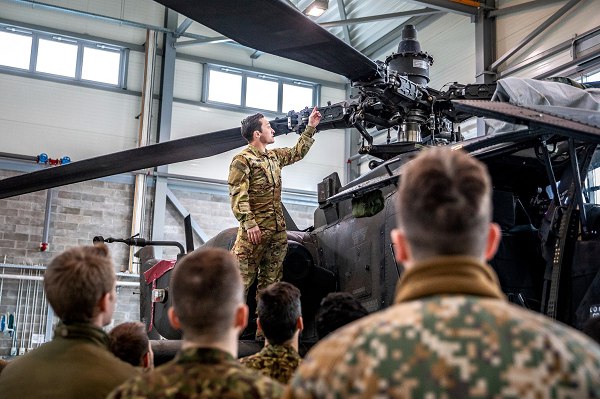 Lielvarde Air Base, Latvia (March 29, 2022): This tiny eastern European country of two million is on the front lines should Russia decide to expand its immoral war on Ukraine.
Wedged between fellow NATO members Estonia to the north and Lithuania to the south, Latvia shares a 133-mile border with Russia including 9 miles on the Baltic Sea. Russia occupied Latvia after World War II and, among its many atrocities, forcibly deported thousands of Latvians to other parts of Russia. Just like they are doing today with the captured Ukrainian civilians. It would be another 60 years before Latvia finally threw off the Russian yoke, joining NATO in 2004.
In this photo by Sgt. Preston Malizia, Army 1st Lieutenant Mason Conine gives a briefing on the capabilities of the AH-64D Apache helicopter to NATO Joint Terminal Attack Controllers. Lt. Conine is assigned to H.H.C., 1-3rd Attack Battalion. 12th Combat Aviation Brigade, one of dozens of U.S. military units routinely deployed to Latvia to share technology and integrate strategy.
As these fine servicemembers serve overseas, Support Our Troops is doing everything possible to provide for their families. Won't you help? Please go to our secure donations page to make your donation, right now.
SupportOurTroops.Org/donate/donate-online