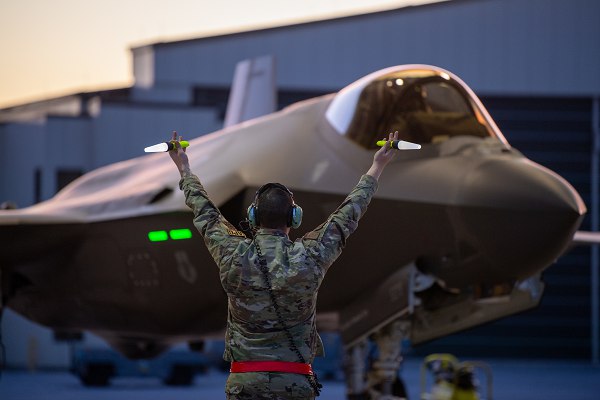 Spangdahlem Air Base, Germany (May 2, 2022): American fighter pilots are patrolling the skies of Eastern Europe in support of our NATO allies, placing them far from home and in harm's way.
In this photo by Technical Sergeant Richard Mekkri, a Crew Chief with the 158th Fighter Wing of the Vermont Air National Guard directs an F-35A Lightning II fighter jet as it prepares to take off. Units like these have increased the tempo of deployments to fortify NATO's eastern flank and to send Vladimir Putin a strong message.
Germany is a major staging area for America's air forces flying patrols along the border with Russia. American pilots train with local nationals to integrate strategy and tactics should they ever need to defend eastern Europe from attack.
Although necessary, these deployments separate families causing hardship to spouses and children left behind. Support Our Troops.org sponsors youth activities to enrich the lives of military kids while their parents serve our nation. Please make a generous contribution at our secure donation site SupportOurTroops.Org/donate/donate-online Our troops and their families deserve our support