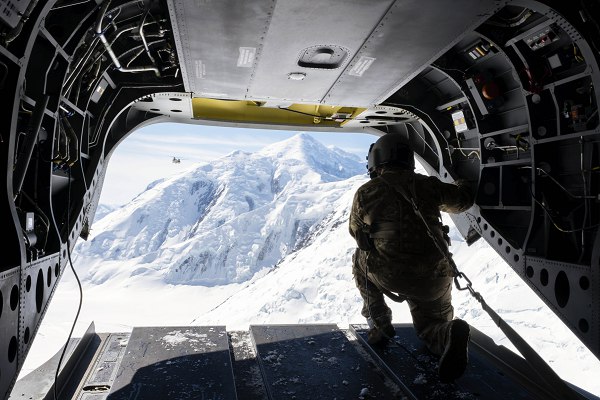 Denali National Park, AK. (May 31, 2022) The creation of a new airborne division is but a few of the changes underway in Alaska today. The Army is disbanding its existing Stryker Combat units as these vehicles proved unsuitable for operating in extreme cold conditions. They will be replaced with traditional airborne forces capable of deploying over great distances and "air mobile" helicopter units for local mobility and support.
In strategic terms, 11th Airborne soldiers will "train the way they fight", in harsh conditions, during extreme cold (50 degrees below zero) and at high altitudes. By establishing this new Artic command, America will ensure its northern fighting forces have the right training, clothing, and equipment to "thrive, not just survive" in the Artic.
In this photo by Benjamin Wilson, a soldier from the Sugar Bears of B Company, 1st Battalion, 52nd Aviation Regiment kneels on the ramp of a Chinook helicopter while looking out at the seemingly endless Artic wilderness. The Sugar Bears, and brave soldiers like them, will soon play a featured role in defending America's northern flank.
Preparing to fight in the Artic means long periods away from home for our troops. Won't you take a moment, right now, to contribute to their morale at https://supportourtroops.org/donate.