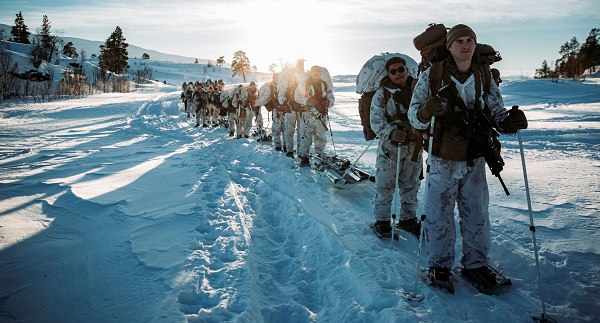 Setermoen, Norway. (February 22, 2022): In January 2021, the Navy released it's "Blue Artic" Strategy detailing America's response to multiple threats from the Russian Federation. Navy analysts warn "Russia is investing heavily to enhance its Artic defense and economic sectors" while "modernizing its military capabilities, especially its Northern Fleet."
American ally and NATO member Norway, with over 1,600 miles of coastline including a 121-mile land bridge with Russia, is determined to enforce the right of safe passage for all international traffic.
And for good reason.
The Artic today contains 30 percent of the world's natural gas, 13 percent of the earth's oil, and over a trillion dollars of rare earth metals that are essential to military production.
Warming seas have granted new access to the Artic and its vast resources sparking intense competition among world powers to control these new sea lanes.
In this photo by Lance Corporal Jacqueline C. Arre, U.S. Marines with the 3rd Battalion, 6th Marine Regiment, 2nd Marine Division take part in Exercise Cold Response 2022, a bi-annual event hosted by Norway, involving 26 NATO nations, allies, and regional partners.
Our sailors and Marines serve far from home during these training missions that are so essential to our Artic defense. You can help send care packages to boost their morale by contributing to Support Our Troops.org at https://supportourtroops.org/donate.