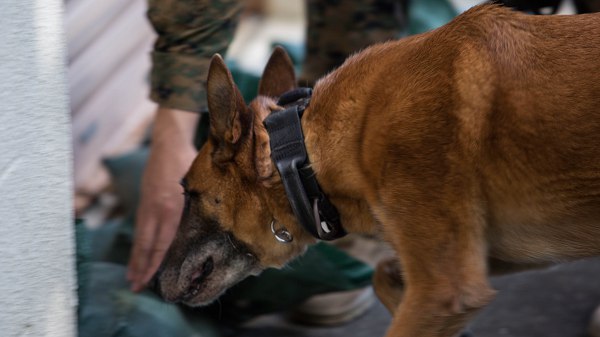 Kadena Air Base, Okinawa, Japan. (June 1, 2022): Perhaps the greatest gift dogs bring to mankind is their unique sense of smell. Dogs have over 300 million olfactory receptors in their noses (compared to just six million for humans) making their sense of smell 40 times greater than man. Scientists also say dogs have something called Neophilia which makes them attracted to new and different smells.
Incredibly, a dog's sense of smell is so powerful that it can detect a drop of liquid in twenty Olympic style swimming pools. The military puts these talents to work to sniff out bombs, detect drugs, find suspects, and discover bodies at disaster scenes.
In this photo by Corporal Taylor Schwamb, military working dog Bbutler searches for a narcotics training aid during drug detection drills at Kadena Air Base, Okinawa, Japan. Narcotics training requires a dog to detect five differ types of drugs including marijuana, heroin, and cocaine. Dogs are evaluated on how well they conduct a search pattern, obedience to commands and success at detecting even tiny amounts of narcotics.
K-9 handlers develop an airtight bond with their partners, they KNOW they will be there when they need them. Won't you be there for our troops? You can make a tax-deductible donation to help Support Our Troops sustain our active duty servicemembers and their families by going to our secure website https://supportourtroops.org/donate today.