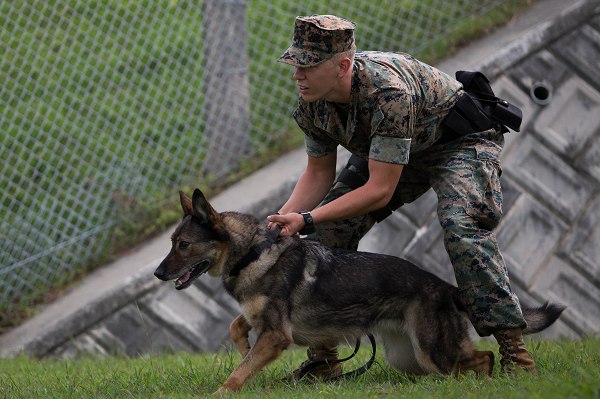 Today's Working Dog teams developed from a mutually beneficial relationship between man and dogs going back centuries. The earliest evidence of humans domesticating dogs was in cave paintings in Germany dating back 14,000 years. It is believed wild wolves would hang around human hunting camps looking for scraps that grew into the partnership with dogs we enjoy today.
In 600 B.C., hounds were used to break up enemy formations by charging into enemy ranks, scattering soldiers to the four winds. During America's Civil War, the most famous war dog was Jack, the mascot for the 102nd Pennsylvania Infantry. Jack joined the regiment when he was adopted by the unit after he wandered into their fire station. Jack accompanied the fighting 102nd in numerous battles throughout the war, patrolling the perimeter, acting as a sentry, and he even delivered messages between units.
Then, as now, America's K-9 Corps is the first line of defense for our troops around the world.
In this photo by Corporal Taylor Schwamb, Lance Corporal Garrett Impola holds his dog back during a K-9 aggression demonstration at the Kadena Passenger Terminal on Kadena Air Base, Okinawa, Japan. This was the first K-9 demonstration the Marine Corps Installations Pacific Command has held for the Okinawa Prefectural Police K-9 unit. Impola and his partner Rita ran through different signals and situations demonstrating her skills as a police dog. Impola is a military police officer assigned to Headquarters and Support Battalion, Marine Corps Base Camp Butler, Japan.
Support Our Troops runs a sustainment program specifically for military dogs and their handlers. Won't you take a moment, right now, to contribute to this important effort? Please go to https://supportourtroops.org/donate, make your tax-deductible donation today!