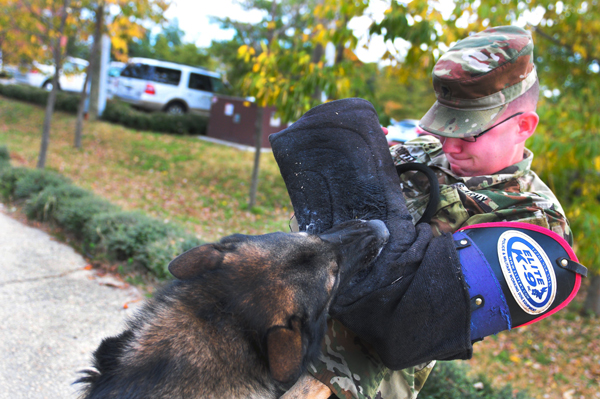 Lackland Air Force Base, TX. (June 15, 2022): Since ancient times, dogs have served alongside their handlers in all manner of combat situations. During WWII, America established the War Dog Program with the requisition of 11,000 dogs needed for combat service around the world. In 1965, the Air Force fielded dog and handler teams for missions in Viet Nam that evolved into today's Air Force Security Forces Center/Army Veterinary Corps, 341st Training Squadron.
The school houses up to 900 dogs graduating approximately 270 multi-purpose warriors a year. Dogs are selected for their temperament and acumen and only half qualify for training as working dogs. Dogs and their handlers must pass a grueling 93-day course at Lackland followed by a field portion at Yuma, Arizona. The school teaches a Specialized Dog Course (for dogs dealing with explosives or narcotics), a Dog Handler's Course, and a new Combat Dog Tracker Course that just graduated its first set of Marines and their dogs.
In this U.S. Army photo, Specialist Michael Coffey and his dog Max, assigned to the 550th Military Working Dog Detachment, 503rd Military Police Battalion, practice "controlled aggression" during training at Fort Bragg, North Carolina. Max is an explosive detector dog trained for work on dismounted patrols in combat situations.
These K-9 teams face some of the most stressful and dangerous assignments in the military. At Support Our Troops.org, we have a tailored assistance program to ship much needed items for their care. Please be one of their best friends by donating to https://supportourtroops.org/donate.