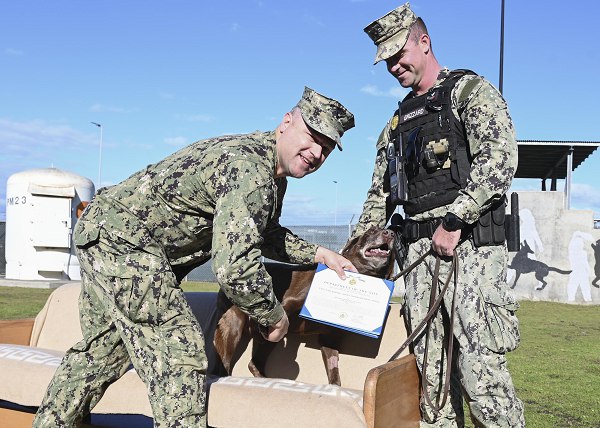 Dog lovers everywhere wince at the thought of a working dog being euthanized when they become unfit for military duty. It would be an even bigger crime to end the lives of these loyal creatures after years of faithful service.
Thankfully, that doesn't happen.
In 2000, Congress passed Robby's Law, legislation that allows retiring military working dogs to be adopted by their former handlers or civilians. Before being placed in homes, adoptees must pass a behavior assessment and the new owner must pledge that the dog will not be used in working service again.
In this photo by Petty Officer 2nd Class Josh Cote, Chief Master-at-Arms Jordyn Japec awards the Navy/Marine Corps Commendation Medals to Navy working dog "Weezy" upon his retirement after ten years of faithful service. Weezy began his career with the U.S. Army at Fort Bragg, North Carolina and did tours of duty at the Marine Corps Air-Ground Combat Center at Twenty-Nine Palms, California ending his career with the Navy at Souda Bay, Greece.
Weezy will live out the rest of his days on a comfortable couch with one of his earliest handlers in North Carolina.
Do you realize that less than one percent of Americans serve on active duty in our armed forces? These exceptional warriors and their families deserve our utmost support. Would you help "send them a piece of home" by helping fund Support Our Troops.org Care Packages for the troops? Please go to our secure website to make a tax-deductible contribution at https://supportourtroops.org/donate.