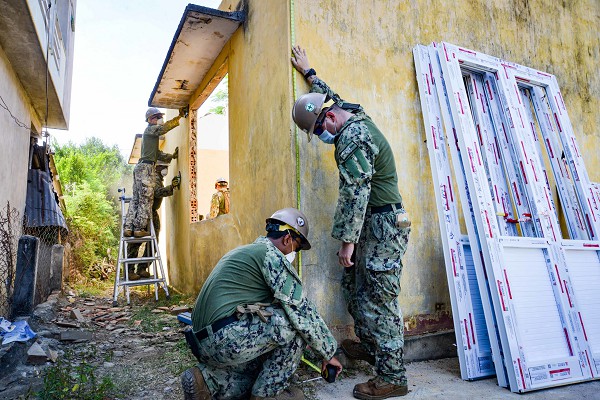 In this photo by Construction Electrician Dylan Slater, Steelworker 3rd Class Samuel Wojtowicz and Steelworker Construction Man Elam Winston take measurements of the exterior of An Tho Ninh Dong Primary School in Vietnam during a renovation project in support of Pacific Partnership 2022. Navy combat engineers used their skills to improve local conditions while honing their preparedness for the next disaster.
PHU YEN, Vietnam (June 21, 2022). It was the day after Christmas, 2004, and the beaches of resort towns across the Indian Ocean were jammed with tourists escaping the cold.
At 8 a.m., a magnitude 9 earthquake ripped a hole in the bottom of the sea sending massive waves toward these unsuspecting shores. The resulting disaster, known as the Boxing Day Tsunami, was the deadliest in history claiming an astonishing 230,000 lives.
The United States responded by dispatching the U.S. Navy Carrier Strike Group 9, led by the U.S.S. Abraham Lincoln to the coast of Sumatra and to the devastated city of Banda Aceh. The Americans provided medical and engineering assistance with millions more in direct aid.
Nations across the world sent relief and medical staff saving thousands of lives.
From this tragic event was born a remarkable partnership between pacific nations to coordinate humanitarian relief efforts to respond to disasters. Member nations pledge to coordinate their responses, including militaries, regional governments, and private relief organizations in a mutual aid pact should another disaster of this magnitude strike.
Now in its 17th year, Pacific Partnership is the largest annual multinational humanitarian assistance and disaster relief preparedness mission conducted in the Indo-Pacific.
We can be proud of the good work these valiant servicemembers provide standing ready to respond to disasters. You can ease their daily burden by donating to SupportOurTroops.Org, a leading national charity that sends "hard to get" items to our troops deployed around the world. Please go to our secure site and make your tax-deductible contribution today. SupportOurTroops.Org/donate