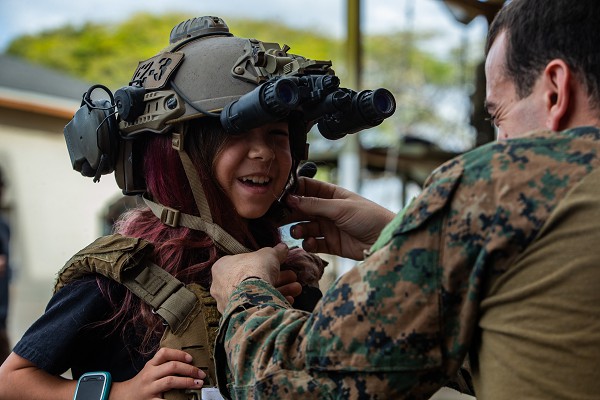 In this U.S. Marine Corps photo by Corporal Isaac Cantrell, a "military brat" is fitted with a helmet during a tactical demonstration/community relations event at Kapolei, Hawaii. Service kids like these endure the instability and emotional separations common to military life.
Kapolei, Hawaii. (July 15, 2022). I was born at the U.S. Army's 97th General Hospital in Frankfurt, Germany with a big green US stamped on my first diaper. The son of an Army officer, I would grow up a "military brat" until joining the Army myself at age 17, as is often expected of military youth. Army families were big in those days (ours had seven kids), and we learned early that we were "different" from our civilians hosts at whatever duty station we ended up.
Ours was an existence of radical change, constant uncertainty, and the instability of packing up our lives every three years. We marveled at folks who grew up where they were born and would live out their lives in one place. Military kids had to adapt to strange environments, quickly make new friends while settling into a new school every couple of years. This meant short courtships, fast friends and quickly passing enemies in the formative years that shaped our view of the world.
As kids, we had a saying "The first year you get to know someone, the second year you get to liking them, and the third year you say goodbye." If you ask a civilian; "Where are you from", they usually have a very specific answer. I went to three elementary, two middle and two high schools from Hawaii to Florida, never feeling "at home" anywhere. To us, home was where we laid our proverbial hats.
We grew accustomed to routine relocations, but we never got used to our father's deployments during the Viet Nam War. Dad did two tours, each lasting nearly two years, during which we were glued to our television every night following nightly casualty reports as civilians do the weather.
When dad was deployed, we kids learned to immediately step up to a host of adult responsibilities including mowing the lawn, doing the laundry, and making dinner all without complaint. We felt patriotic, like members of a team fighting for our country. Growing up in a service family, you develop a fierce patriotism and a special camaraderie with others who shared your sacrifice.
SOT Note: Although growing up military had its share of challenges, most of us would not have had it any other way. We felt proud to be part of the team defending our nation. That is why I am so proud to represent a charity like Support Our Troops dedicated to making the lives of military families better. Please do what you can to help at supportourtroops.org/donate.