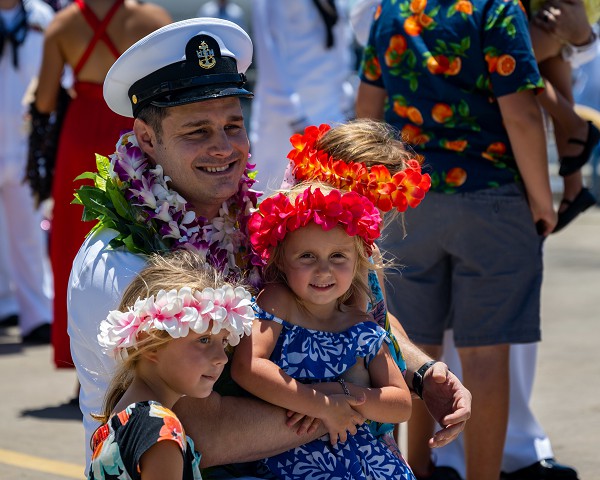 In the photo by Navy Electronics Technician (Nuclear) 2nd Class Leland T. Hasty II, Senior Chief Sonar Technician (Submarine) Donald Mattes reunites with his family after seven months at sea, returning to Joint Base Pearl Harbor-Hickam from deployment with the 7th Fleet. Senior Chief Mattes hails from Crown Point, Indiana and is assigned to the Virginia-class fast attack submarine the U.S.S. North Carolina.
Joint Base Pearl Harbor-Hickam, HI. (July 12, 2022) So, who are these Americans military families and what is their world like?
First, and this cannot be emphasized enough, less than one percent of Americans serve on active duty in our armed forces.
Currently, there are 1.6 million American active-duty military families serving at upwards of 750 military installations around the world. Half are married with just over 36 percent having young children (under 5 years of age) according to the 2020 Demographic Report by Military Source One. Military spouses remain overwhelmingly female (90 percent) and are young (68 percent under 30 years of age) are most are just starting their families.
Service families have higher divorce rates than their civilian counterparts, mostly due to the frequent deployments, long separations, and constant worry unique to military life.
Finally, frequent relocations prevent most military spouses from securing employment or furthering their education further adding to family stress.
SOT Note: Who are these military families? If they sound familiar, they should. They are you and I, our friends, neighbors, and colleagues who have chosen to defend our way of life. Won't you take a moment, right now, go to our secure website supportourtroops.org/donate to make your tax-deductible donation today?