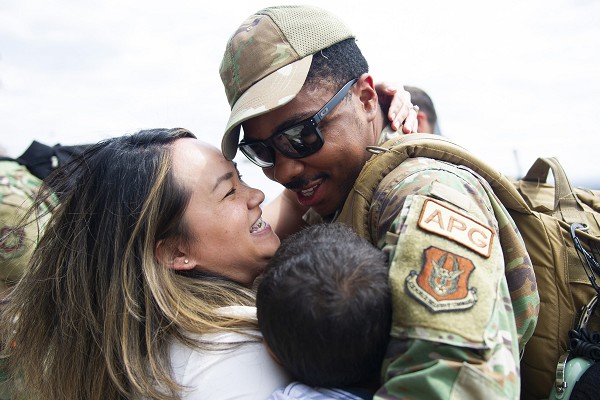 In this Air Force photo by Chris Farley, Staff Sergeant Darrell Anderson hugs his wife Felicia and son after returning from a three-month deployment to Europe. SSgt. Anderson is assigned to the 934th Airlift Wing, Minneapolis-St. Paul Air Reserve Station, Minnesota which deployed to Europe to practice tactical airlifts and aeromedical evacuations. Families like these learn to be resilient in the face of multiple relocations and long deployments overseas.
Minneapolis-St. Paul Air Force Reserve Station, MN. (July 9, 2022). Military families face challenges and stresses that dwarf those of average Americans, yet they also enjoy many advantages civilians should envy.

At a time in our history when Americans battled over school integration, our military schools were an amazing blend of students of all colors and faiths from every corner of the earth. In fact, the armed forces have been remarkably "progressive" over the years treating and promoting minorities fairly and honorably. Military families have longed enjoyed racial harmony as part of a the most diverse armed forces in the world.
By necessity, service families are resilient. Multiple deployments and a dozen relocations harden the resolve of servicemembers to maintain, as best they can, a "normal" existence for their kids. The children learn that life is impermanent and to grab for all the gusto they can before these fleeting relationships end. Constant, often radical, change forces military families to readily adapt to new environments and foreign cultures.
Service families are resourceful and self-sufficient. In these days of child-centered "helicopter" parenting, military kids are taught early to fend for themselves. During multiple deployments, they are expected to manage their own affairs while doing chores shunned by most American teenagers. They clean their rooms, mow the lawn, and do the laundry without complaint.
Military families reflect American values. Not surprisingly, military families are fiercely patriotic and consider public services the highest calling. Military brats are taught to revere their freedoms and the nation that makes them possible. They often follow their parents into the military when it is "their turn."
Therefore, it is so important for Americans, like you, to support these patriotic families as they struggle to defend our nation. While military families may not be on the battlefield, they nonetheless are a vital link in our country's defense. Please do your part by making a generous donation to Support Our Troops at our secure site supportourtroops.org/donate today.