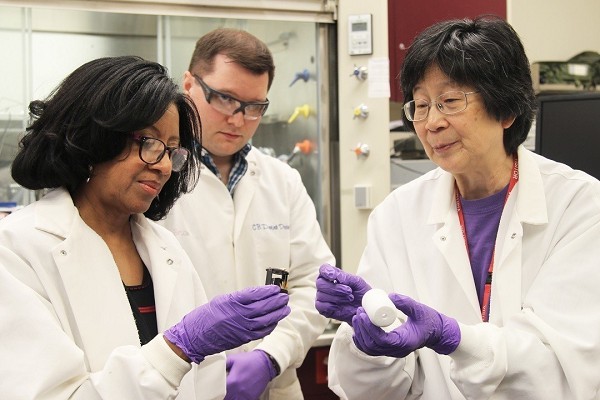 In this U.S. Army photo by Janet Wychock, Army Research Scientist for Chemistry Dr. Patricia McDaniel, left, works with research scientists Brian Hauck and Janet Jensen to explore chemical and biological detection technologies to protect warfighters in the field.
Aberdeen Proving Ground, MD. (July 22, 2022): It made its ghastly appearance in the trenches of World War I. It wounded 1.3 million combatants on both sides, killing over 100,000 soldiers and civilians. The demon that caused all this destruction was chemical agents, mostly mustard gas, fired back and forth indiscriminately by both the Germans and the allies. This was the world's introduction to the grisly use of chemical weapons in combat, and it would not be the last.
The Russians have vast stockpiles of these weapons of mass destruction and has shown a recent willingness to use them against civilians in Syria. America must protect its troops from this lethal threat using all available technology.

That is the mission of the U.S. Army's Combat Capabilities Development Command Chemical and Biological Center, led by Senior Research Scientist Dr. Patricia McDaniel and her highly skilled team of investigators/developers. Based at the Army's testing facility at Aberdeen Proving Ground, Maryland, Dr. McDaniel directs two basic research and innovation exploratory science programs that are developing "Microsensors" capable of detecting the tiniest amount of chemical or biological agents. These low cost, light weight sensors alert America's warfighters to the presence of chemical agents in time to protect themselves and their comrades.
Dr. McDaniel was recently celebrated for her advanced work in this field and has been invited to be an honorary Senior Research Fellow at the Institute for Security Science and Technology at the Imperial College, London, England. Thanks to Dr. McDaniel and her team of dedicated scientists, American troops will be more prepared and likely to survive encounters with this lethal threat.
SOT Note: Thank goodness for highly qualified professionals like these whose skill and advanced training saves countless lives. You too can help protect our brave servicemembers by doing one simple thing; go to our secure website and make your tax-deductible contribution to Support Our Troops, a charity dedicated to the welfare of America's active-duty warfighters. https://supportourtroops.org/donate.