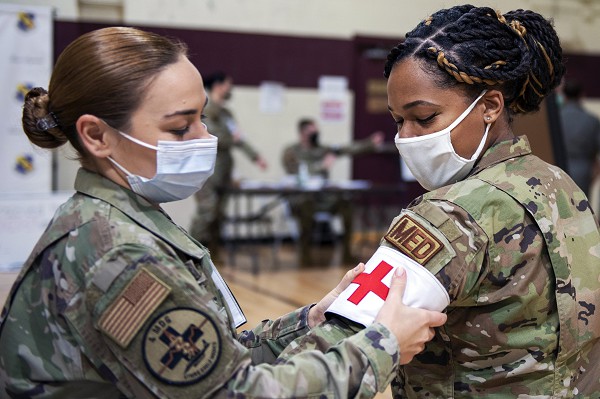 In this photo by Airman 1st Class Kimberly Barrer, Staff Sergeant Maria Monzi with the 4th Medical Readiness Squadron based at Seymour Johnson Air Force Base, North Carolina places a Red Cross arm band on fellow medical technician Staff Sergeant Candice Stafford as they prepare to administer COVID-19 immunizations. The military provides numerous avenues for recruits interested in a medical career.
Bethesda, MD. (July 24, 2022): Can you stand the sight of blood? Are you able to keep your cool while responding to medical emergencies? Have you ever pictured yourself as a doctor, registered nurse, or medical technician?
If so, America's armed forces might be the place to start.
Sadly, American servicemembers are going to get hurt doing their duty, even in peace time. Our nation prides itself on providing state of the art medical care to our active-duty troops no matter where they serve in the world. That is why the Army operates one of the world's elite medical training programs based at the famed Walter Reed National Military Medical Center at Bethesda, Maryland.
The school/hospital covers a wide variety of medical disciplines, ranging from routine outpatient care to advanced surgery, and courses are taught by world class physicians. All service branches send their prospective physicians here for training in health maintenance, emergency, and surgical care at the Uniformed Services University of Health and Sciences center on the hospital grounds. Upon completion of four years medical school, graduates agree to be military doctors for an additional four years.
Given the high cost of medical school, the military program at Bethesda offers a unique opportunity for students to receive tuition and a salary while training to save lives while serving their country.
SOT Note: America's troops willingly place themselves in harms way and our nation is committed to ensuring they receive the best medical care in the world. While these professionals treat our warfighters, they deserve the support of patriotic Americans, like you. Please take a moment, right now, to go to our secure website https://supportourtroops.org/donate to make your tax-deductible donation today!