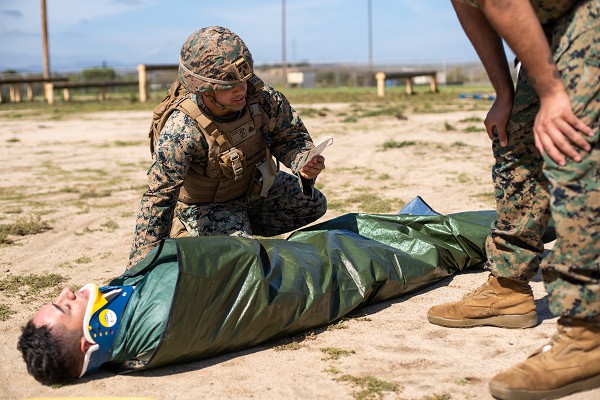 In this photo by Marine Corporal Garrett Kiger, Corporal Ryan Nascimento, a chemical, biological, radiological, and nuclear defense specialist, reads off casualty information prior to transport during a Combat Lifesaver Course practical application at Camp Pendleton. The Combat Lifesaver Course is a three-day program that teaches Marines vital medical techniques to prevent loss of life on the battlefield.
Camp Pendleton, CA. (July 21, 2022): Its an ambush! Multiple explosions, bullets flying, a grievously wounded troop cries out medic! As the firefight rages, no medic is available and, without immediate care, this warfighter is going to die. What can the average troop do in such a situation?
In the past, many units suffered "preventable" deaths, losses that would not have occurred had warfighters received immediate lifesaving treatment. To ensure such care, the military established the Combat Lifesaver Course, an emergency medical training program for non-medical military personnel, to ensure critical care is delivered on the battlefield. For the Marines, the course is offered to all combat and support personnel who may find themselves treating seriously wounded comrades before medics can arrive. The Combat Lifesaver Course teaches crisis medicine, including essential tasks like applying a tourniquet, clearing the airway, or stopping the bleeding, things that buy valuable time and saves lives.
Topics also include providing care while under fire and preparing a wounded comrade for evacuation. By applying these principles, virtually every Marine is a potential "lifesaver" on the battlefield.
SOT Note: Our military is doing all it can to protect the men and women who risk their lives to defend our nation. You can do your part by helping Support Our Troops provide quality of life support by making a generous donation at our secure website https://supportourtroops.org/donate. Thank you!