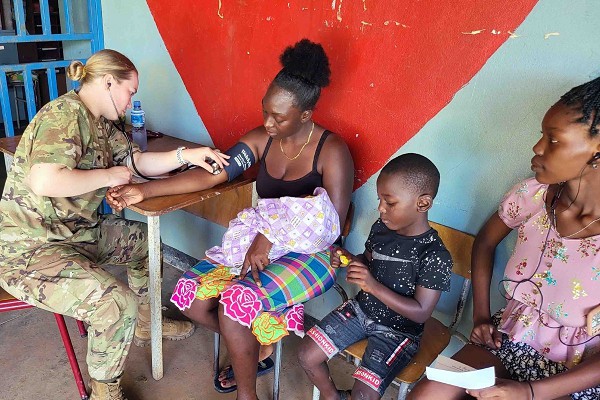 A South Dakota Army National Guard Medic tests the blood pressure of a villager in the South American country of Suriname. Some thirty soldiers from the South Dakota National Guard travelled to this South American country to provide medical and dental services as part of America's international partnerships for mutual aid. (U.S. Army photo courtesy of the North Dakota National Guard).
Paramaribo, Suriname. (July 20, 2022): When we think of military medicine, images of wounded soldiers treated by medics while under fire come immediately to mind. What you may not realize is how powerful a diplomatic tool routine medical care can be.
A good example is the partnership between the South Dakota National Guard and the Surname Army. Sponsored by the U.S. Southern Command, medics from the South Dakota travelled to Paramaribo, Suriname each year to host medical clinics in remote villages to establish cooperation and lasting friendships.
Over the past 15 years, the two organizations have conducted joint operations ranging from establishing medical/dental clinics to sharing advanced surgical techniques with field surgeons. America's military uses its vast medical experience to train local units in emergency response, medical evacuations, and routine care.
SOT Note: These highly skilled medical professionals are the "face" of America to the people of the world. They and their families, deserve our utmost support as representatives of our nation. You can do your part by making a generous donation to Support Our Troops at our secure website https://supportourtroops.org/donate. Please make your contribution today!