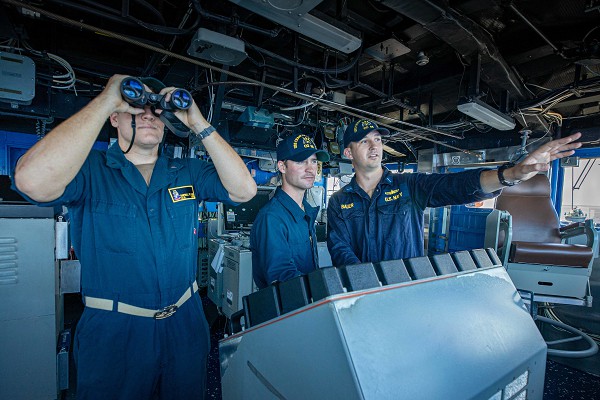 South China Sea (July 25, 2022): In this photo by Navy Mass Communications Specialist 2 Justin Stack, sailors aboard the Ticonderoga-class guided missile cruiser USS Chancellorsville stand watch for Chinese military vessels as they conduct "freedom of navigation" exercises in the Taiwan strait. America routinely confronts challenges by the Chinese Navy to the safe passage of vessels in international waters.
South China Sea (July 25, 2022): A dramatic increase in Chinese military activity surrounding Taiwan (formerly known as Formosa) has American military commanders concerned an invasion of the island is imminent. Taiwanese authorities have reported "large incursions" by Chinese military forces into their territorial waters and airspace in recent months. In April, China flew the largest number of military jets into Taiwan airspace this year. This hyper-aggressive activity has led U.S. Admiral John Aquilino, the Pentagon's Commander for the Indo Pacific region, to conclude that "a Chinese invasion of Taiwan is "closer than most think."
America and her allies have pledged to defend the people of Taiwan in such an invasion, including a massive air and naval response. Given these realities, it is important to understand "how we got here" historically and what commitments the world has made to defend the free people of Taiwan.
After the allied victory in World War II, the Japanese relinquished control of China including the island of Taiwan located some 90 miles off the coast of the mainland. After a few years, however, civil war broke out between the Nationalist Chinese under Chiang Kai-shek and the Communists led by Mao Zedong over control of post war China. The Communists were victorious, and the Nationalist Chinese forces fled with their supporters to Taiwan in 1949. Unlike their communist neighbor, Taiwan developed a democratic, free market-based government that has been an economic miracle in Asia.
Today, both nations are governed by a formula called "One country, two systems" in which Taiwan is granted significant autonomy if it agrees in principle that it is a part of China. America and her allies have expressed support for this policy but strongly oppose any attempt by the mainland Chinese to retake the island by force.
American naval and air forces in the region are on high alert for signs an invasion is underway and our servicemembers are prepared for action should it come. At Support Our Troops.org, we are taking every step to surge resources to our active-duty military in the region, and we need your help. Our troops are counting on patriotic Americans, like you, to help sustain them while they are deployed overseas. Please, take a moment, right now, to make your donation at our secure website at supportourtroops.org/donate.