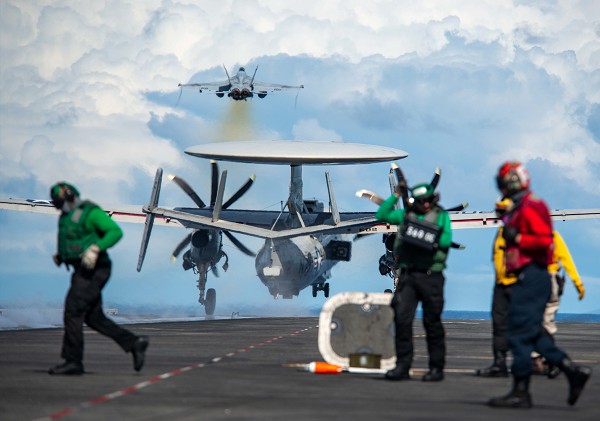 South China Sea (July 28, 2022): In this photo by Petty Officer 3rd Class Gray Gibson, an American F/A-18E Super Hornet jet attached to the "Royal Maces" Strike Fighter Squadron and an E-2D Hawkeye reconnaissance aircraft assigned to the Tiger Tails Squadron, launch from the deck of the USS Ronald Reagan aircraft carrier. The Ronald Reagan is the Navy's only forward-deployed aircraft carrier that conducts tactical early warning missions against hostile actors in the Indo-Pacific region.
Aboard The USS Ronald Reagan, South China Sea (July 28, 2022): In addition to rising tensions over Taiwan, America and China continually battle for control over strategic economic and military "maritime choke points" in the world's oceans.
Much of the world's maritime traffic occurs at four choke points: The Malacca Strait, between the Indian and Pacific Oceans, the Bab al-Mandeb Straits, which are the gateway between the Indian Ocean and the Red Sea, and the Suez and Panama Canals. The U.S. military is increasingly alarmed at increased Chinese naval activity near these choke points that may give them the ability to interfere with both military and commercial traffic. Of particular concern is China's only overseas military installation located near the Bab al-Mandeb Straits which can threaten access to the Red Sea and the Suez Canal.
In April, a large commercial vessel got stuck in the Suez Canal which disrupted world trade and serves as a reminder that even brief interruptions at these choke points can be disastrous.
That is why America has deployed the Ronald Reagan Strike Group, with a complement of over 5,000 sailors and their air wings, to patrol the South China Sea to assert the right of safe passage of all nations through international waters.
As Americans, it is our duty to do whatever we can to sustain our brave servicemembers deployed to confront China. Please make a monthly Patriot Brigade® donation of even a small monthly amount to help Support Our Troops.