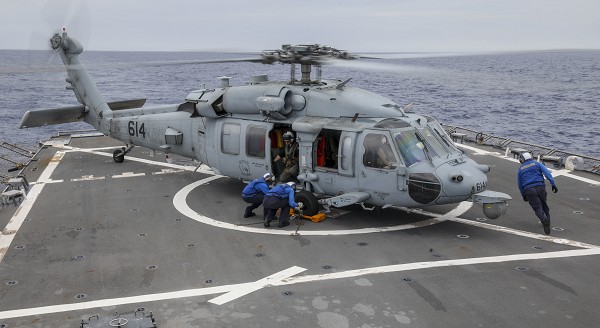 Philippine Sea (July 28, 2022): In this photo by Petty Officer 2nd Class Arthur Rosen, sailors aboard the Arleigh Burke class guided missile destroyer USS Benfold remove chocks and chains from an MH-60D Sea Hawk helicopter assigned to the famed "Golden Falcons" combat squadron. In 1951, the United States signed a Mutual Defense Pact with the Philippines guaranteeing American military intervention should any of her armed forces be attacked in contested waters.
Philippine Sea (July 28, 2022): It is true. Everyone hates a bully. For the Philippines, one of our longest and most faithful allies, that bully is China and its aggressive actions in the South China Sea. As China flexes its muscles in the waters off the Philippines, Viet Nam, and Malaysia, the American military must reassure its allies in the region that we have their back.
China (wrongly) lays claim to virtually the entire South China Sea, based on historical grounds, and has attempted to assert control over international navigation in violation of international law. Filipino fishermen, for example, have clashed with Chinese rivals who routinely violate their territorial waters while tacitly protected by the Chinese Navy. China has transformed seven barely submerged atolls, dubbed the Spratly Islands, into military bases directly in the path of international shipping lanes. Now established, China has used these islands to encroach upon its neighbors and to illegally challenge the right of vessels to navigate in the South China Sea. Both the Philippines and Viet Nam have also claimed ownership of these islands.
Despite strenuous Chinese objections, the U.S. military routinely conducts "freedom of navigation" missions through these disputed waters reasserting international right of safe passage. American aircraft routinely patrol these contested skies as a clear signal to the Chinese that America will not be intimidated.
The United States and her allies will not be bullied.