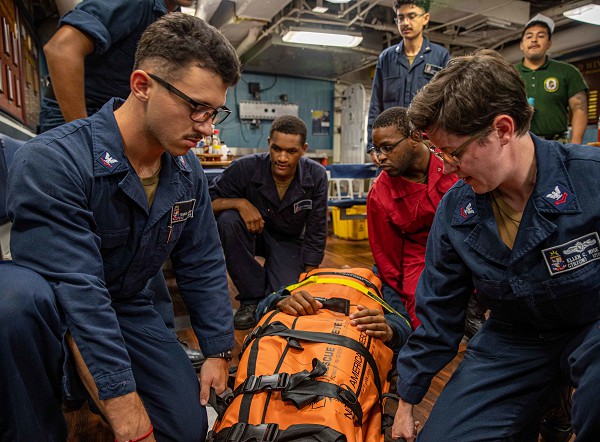 Aboard the USS Chancellorsville, South China Sea. (July 28, 2022): In this photo by Petty Officer 2nd Class Justin Stack, sailors conduct stretcher bearer training for a mass casualty event in the event of an emergency. A sailor's life is filled constant training, long hours, and plenty of stresses and frustrations.
Only a tiny fraction of Americans will ever know what it is like to live aboard a warship, be it an aircraft carrier, a destroyer, or an amphibious assault vessel. A sailor's life is often filled with stress, monotony, boredom, homesickness, frustration, and fatigue while experiencing new cultures and visiting exotic locales around the world. Life aboard "the Boat" as sailors say, is anything but ordinary.
Each day begins with reveille at zero dark thirty followed by the daily announcements blaring over the ship's communications. You wait in line for breakfast, stuffed into cramped spaces, for what seems like an hour. Next, you begin your 12-hour (often more) shift that includes constant training, spot checks, team meetings, and examinations on ship maintenance. The ship will often go into "Alert Mode" where sailors face simulated attacks, practice fire control and evacuation procedures, and train for medical emergencies.
Life is not all dreariness, however, as sailors get plenty of chances to exercise at multiple well-equipped gyms on board, and they may even take aerobics classes taught by certified instructors. The crew are allowed to bring a variety of personal entertainment on board to help ease the monotony of days spent surrounded by miles of open spaces, nothing on the horizon in all directions but tossing waves and darkening skies.
Still, there is the reward of visiting exotic places, like Singapore, Hong Kong, South Korea, Hawaii, and Japan while looking forward to returning to port and the loved ones left behind.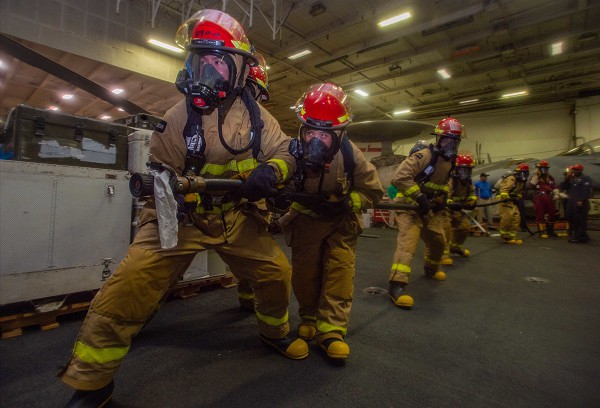 South China Sea (July 27, 2022): In this photo by Mass Communications Specialist Seaman Natasha Chevalier-Losada, sailors fight a simulated fire during damage control drills aboard the Navy's only forward deployed aircraft carrier, the USS Ronald Reagan. With a population of over 5,000 souls, life aboard is like living in a floating city surrounded by miles of endless ocean views