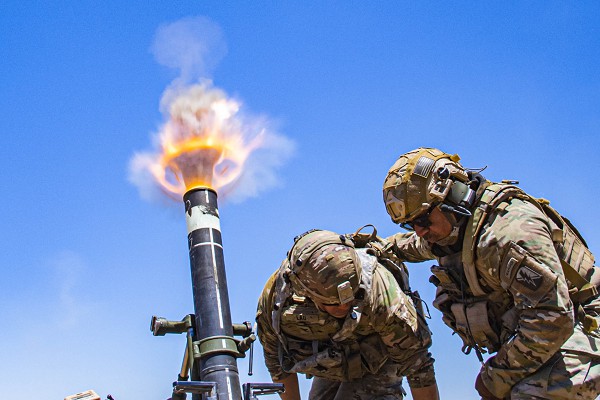 Camp Roberts, CA. (August 4, 2022): In this photo by Staff Sergeant Walter Lowell, Army Colonel Randy Lau fires a 120mm Mortar during live fire exercises at Camp Roberts, California. Mortars are the squads' "Artillery" and these skilled crews save many lives in combat.
Camp Roberts, CA. (August 4, 2022): In modern science, the word "Artillery" means big guns firing massive shells to devastate the enemy. A far more basic form of "Arty" for an infantry squad is the humble, but highly effective, Mortar.
The earliest record of Mortars in combat was by the Ottomans in 1453 who constructed large contraptions, some weighing as much as 5 tons, capable of firing projectiles weighing over 200 pounds. Modern Mortars are tiny by comparison but provide a major league wallop on the battlefield.
Officially called Indirect Fire Infantryman (MOS 11C), these soldiers set up and fire three types of mortars with varying ranges and are often the only firepower available to infantry leaders under fire. Mortar crews must be both mentally and physically fit, able to work as a team, and ready to accept danger. In addition to fire support, mortar crews must also know how to set or remove explosives and to detect and neutralize anti-personnel mines.
For the average infantry soldier, the squad-level mortar team may mean the difference between life and death. At Support Our Troops, we never forget the sacrifices brave young Americans are making to protect our freedoms. We hope you agree and will take a moment, right now, to visit our secure website https://supportourtroops.org/donate to contribute to their well-being.