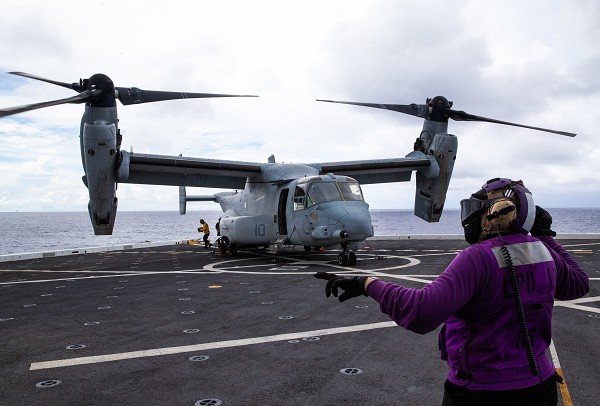 Philippine Sea (July 28, 2022): In this photo by Lance Corporal Yvonne Iwae, U.S. Navy Sailors assigned to the USS New Orleans transport supplies off an Osprey tilt-rotor aircraft in support of the Marine Corps 31st Marine Expeditionary Unit. The 31st MEU is the only continuously deployed quick reaction force available for any combat or humanitarian crisis in the Indo-Pacific
Philippine Sea. (July 28, 2022): By throwing a temper tantrum off the coast of Taiwan, China may have unwittingly given western intelligence officers a bonanza of up-to-date information on their military capability. In the past week, China has conducted live fire exercises and repeatedly violated Taiwan air space, all under the watchful eye of America's 7th Fleet.

American intelligence operatives are viewing, in real time, Chinese naval and air tactics, operating procedures, and the number and types of ships and aircraft they are likely to employ in an invasion of Taiwan.
Why is China doing this?
Chinese President Xi may have his own domestic troubles that provoking an international crisis might prove a useful distraction. His draconian COVID policy of drastic lockdowns to train individual control have angered ordinary citizens while the Chinese economy has slowed dramatically, spiking unemployment especially among young people. By manufacturing this crisis, President Xi hopes to divert domestic attention away from these troubles by using America as his punching bag.
Standing guard, should things get out of hand, is the famed U.S. Marine Corps 31st Expeditionary Unit, based in Okinawa, Japan. This is the Marines only continuously deployed quick reaction force that keeps the peace and helps in a humanitarian crisis in the Indo-Pacific.
These 2,200 Marines and Sailors, who routinely deploy for up to six months at time, willingly agree to be the "first to fight" against any threat to America. Your donations for yellow ribbon care package troop support boosts the morale of active duty deployed service members like these worldwide. They deserve our support.
Please join the Patriots Brigade® monthly donation program at https://supportourtroops.org/donate.