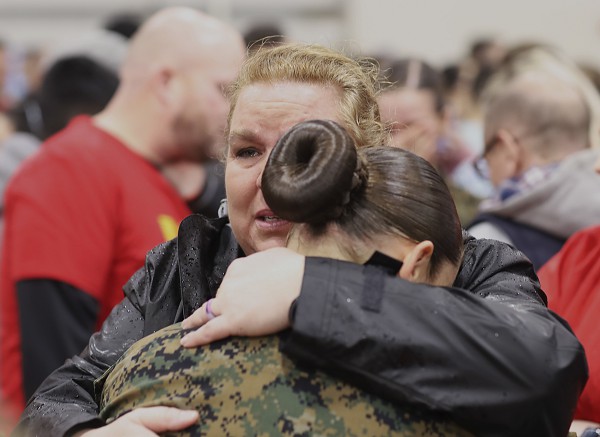 Paris Island, S.C. (August 8, 2022): In this photo by Corporal Samuel Fletcher, Marines embrace loved ones during Family Day at Marine Corps Recruit Depot, Parris Island, South Carolina. The event allows newly minted Marines the chance to reconnect with their families before graduation day. This Marine went through several intense phases of physical and emotional training to earn the right to wear the eagle, globe, and anchor of the U.S.M.C.
Paris Island, S.C. (August 8, 2022): For the Marines, it is the first time they set their feet on "yellow feet" painted on the tarmac on day one. For soldiers, it is a swarm of angry drill sergeants descending on a bus full of terrified recruits. Air Force trainees remember the rather rude greeting they received at Lackland entering the B.E.A.S.T. (training regimen). It seems every service has its "shock and awe" methods to welcome volunteers to the rigors of military life.
While terrifying at the time, most veterans agree their baptism during basic training taught many valuable lessons that have lasted a lifetime. In the photo above, a newly "made" Marine hugs her loved one after enduring some of the most arduous and challenging infantry training in the world.
Regardless of service, there are certain informal "phases" one goes through before earning the right to wear the uniform.
Phase one involves emotional shock, unfamiliar surroundings, and angry drill instructors. Here you learn respect for authority, to instantly obey orders, why the chain of command is so important and, through countless surprise inspections, attention to detail. Each day seems like a fight for survival, to respond appropriately and, above all, don't stick out.
During the second phase, recruits develop the drive to win, to take the initiative and overcome adversity, and to learn how to work as a team. No matter where you are from, you learn quickly to respect ethnic or cultural differences and to treat fellow recruits with respect. There are no "individualists" in the ranks as each needs the other to survive.
By phase three, most recruits have adjusted to military life and their confidence is their abilities is growing. All the running, road marches, and pushups have had their effect as trainees successfully master tasks they would have found impossible just a month before.
As graduation nears, recruits feel a deep sense of patriotism, pride in their accomplishments, and confidence in their ability to defend our country. They have formed a strong bond with their comrades based on trust and commitment and are ready to begin their military life.
At Support Our Troops, we celebrate these brave young Americans willing to sacrifice for our nation's security. We urge you to take a moment, right now, to go to our secure website to join our Patriot Brigade® monthly gift program to show your support for America's warfighters https://supportourtroops.org/donate.
Your donations for yellow ribbon care package troop support boosts the morale of active duty deployed service members like these worldwide