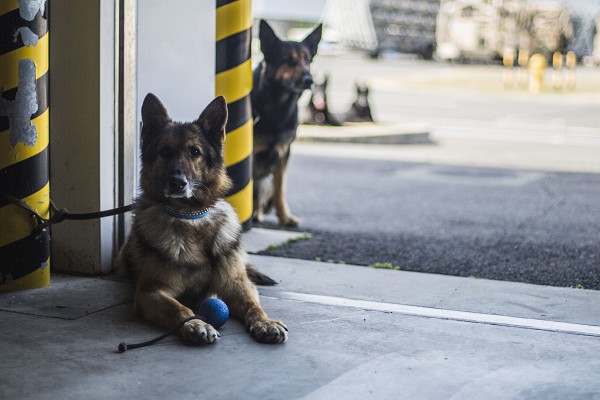 Marine Corps Air Station Iwakuni, Japan. (August 12, 2022). In this photo by Corporal Andrew Jones, Japanese working dogs wait their turn to perform a search at Marine Corps Air Station Iwakuni, Japan. Their K-9 handlers are from the Japan Maritime Self-Defense Force who depend on German Shepherds for perimeter defense and bomb/drug detections.
Marine Corps Air Station Iwakuni, Japan. (August 12, 2022): We are familiar with the veritable German Shepherd as an essential part of police and military operations for centuries. Shepherds are the most popular choice due to their intelligence, loyalty, agility, and ability to remain calm in hostile environments. Horses, donkeys, mules, and camels have all served as pack animals transporting men and medical supplies to the front. Even birds got into the act with carrier pigeons delivering messages and the unfortunate canary used to detect poisonous gas.
Throughout history, man has attempted to use animals in some surprisingly strange ways.
Author Graham Land in his recent article, 10 Animals Used For Military Purposes, describes some of the odd ways military planners hoped to use our animal friends.
The Elephant Mountain Division
Eat your heart out 10th Mountain Division! Perhaps the most famous non-human weapon of war is the giant and durable elephant. In 218 B.C., Hannibal famously led 400 elephants and an army of over 100,000 men across the Alps to defeat a much superior Italian army. Having never seen elephants before, the Roman Calvary panicked resulting in a surprise victory for Hannibal and forever installed the noble elephant as a "heavy weight" on the battlefield.
Dolphins Playing Tag
Another highly intelligent and trainable creature, the bottle-nosed dolphin, has assumed a growing role in marine warfare. Military dolphins are trained to locate enemy divers and use their snouts to attach flotation devices to their air tanks, like playing tag, forcing them to the surface. Contrary to popular myth, these dolphins are not trained by the U.S. Navy Mammal Marine Program to use lethal force and they are in no way mistreated by the Navy.
The Exploding Rats Plan
An unpleasant companion to soldiers in the trenches was often the despicable rodent, spreading filth and disease while contributing to the overall horror of battle. To British Special Forces, however, the miserable creatures offered an opportunity to strike the enemy where he lived. Allied forces developed plans to use explosive "dummy rats" to attack munitions factories in Germany by stuffing rat carcasses with explosive and placing them in coal piles ready for loading into the plant's incinerator system. The Special Forces hoped workers would shovel the deceased rats into the boilers leading to catastrophic explosions at the plant.
Due to a quirk of fate, the "Rat Plan" was discovered by the NAZI's who spent the rest of the war looking for "exploding rats" to no avail. They were never again used as a weapon in combat.