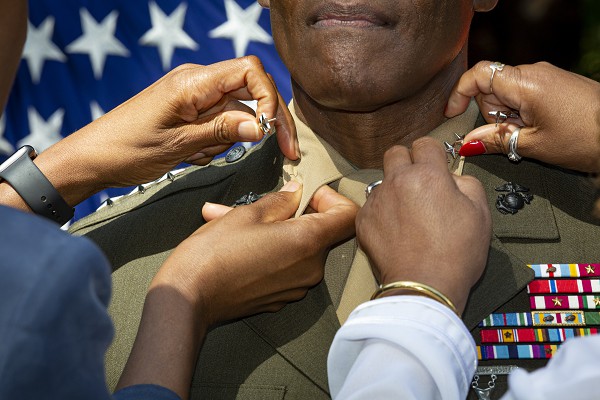 Washington, D.C. (August 12, 2022): In this photo by Sgt. Karis Mattingly, U.S. Marine Corps General Michael E. Langley is promoted by his family during a ceremony at Marine Barracks Washington, D.C. General Langley, who began his career as an artillery officer in 1985, is the now one of only three four-star Generals in the United State Marine Corps.
Marine Barracks, Washington D.C. (August 12, 2022): We often write about military "brats" (an affectionate term) and the unique struggles they face growing up. Sometimes, one of these folks really reaches the pinnacle.
This week, the U.S. Marine Corps promoted Michael E. Langley, whose father served in the Air Force, to the rank of four-star General elevating him to the top of America's military leadership. One of only three U.S.M.C. officers to hold the rank, General Langley will be in a unique position to advise the Corps on policy going forward. A seasoned field officer, General Langley has held command at all levels, from platoon leader to division commander, and he served in both Japan and Afghanistan over his storied career.
Born in Shreveport, Louisiana, home to the sprawling Barksdale Air Force Base, General Langley's father urged him to "aim high" which he did, in the Marines. A graduate of the University of Texas, General Langley was commissioned a second lieutenant in 1985 and began his service in the field of artillery. General Langley is a graduate of the Marines Amphibious Warfare School and holds advanced degrees from both the Army and Navy War Colleges.
We at Support Our Troops and patriotic Americans everywhere salute you, General Langley, and we remain Semper Fi.