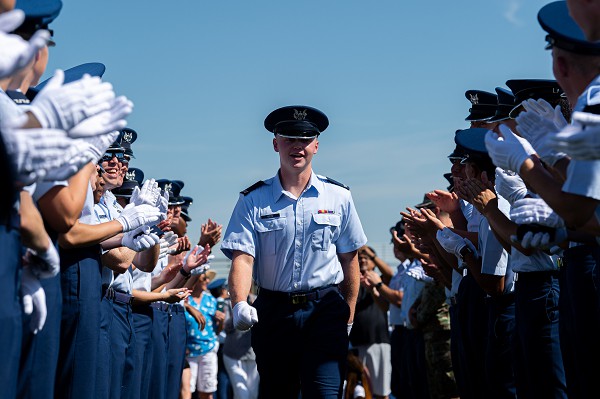 Colorado Springs, CO. (August 8, 2022): In this photo by Trevor Cokley, U.S. Air Force Academy cadets form a congratulatory line during Acceptance Day ceremonies at Stillman Field. Here cadets receive their fourth-class shoulder boards recognizing their completion of basic training and signifying their acceptance into the Cadet Wing or freshman class at the Air Force Academy. This is only the first step in a four-year college journey followed by at least five years of active-duty service as an officer in America's armed forces.
Colorado Springs, CO. (August 8, 2022): There are few accomplishments in life that match graduating from basic military training, and it shows on the faces of sheer joy as these young cadets begin their journey in the Air Force.
Acceptance Day for Air Force Academy recruits comes after 6 weeks of grueling basic training, where their physical and mental courage was tested, and where they learned to perform as a team.
The Air Force became a separate service in 1947 and the Academy was established in 1954 with a class of 306 men training at Lowry Air Force Base, Colorado. Women were finally allowed into the Academy by President Gerald Ford in 1975 and the Air Force graduated its first officers class including women in July 1980. Interestingly, one of the graduates from this very class became the Academy's first female superintendent, Lieutenant General Michelle Johnson.
After graduation, each cadet commits to serving at least five years on active duty and, as officers, will hold their commissions for life. It is truly heartwarming to see the expressions of hope and optimism of these brave young Americans who choose to serve their country.
At Support Our Troops, we hope these stories inspire you to contribute to the welfare of our active-duty troops wherever they are by going to our secure website https://supportourtroops.org/donate.
Your donations for yellow ribbon care package troop support boosts the morale of active duty deployed service members like these worldwide.