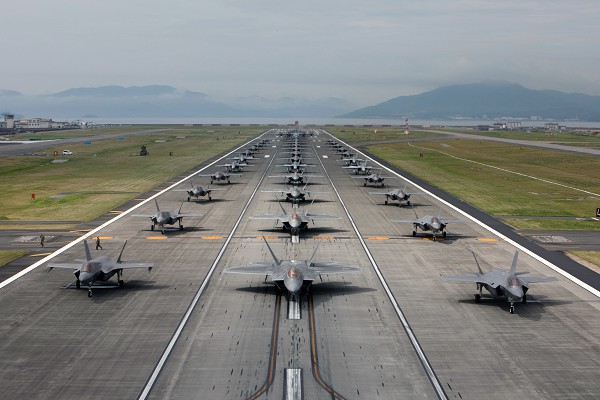 Marine Corps Air Station, Iwakuni, Japan. (August 23, 2022): In this photo by Staff Sergeant Jessika Braden, the U.S. Air Force 354th Air Expeditionary Wing and the U.S.M.C. Aircraft Group 12 demonstrate their capabilities during a readiness exercise here this week. The demonstration included five Marine Corps F/A-18 Hornets, eight F-35B Lightning II's, a KC120J Super Hercules, ten Air Force Raptors and ten F-35A Lightning II's showcasing their high level of readiness to respond to any crisis that threatens a free and open Indo-Pacific.
Marine Corps Air Station, Iwakuni, Japan. (August 23, 2022): At the end of World War II, the defeated Japanese nation adopted a "pacifist" constitution forbidding the raising of large armies so that future generations would not succumb to the militarism that had destroyed their country. Ever since, there has been a strong public sentiment in Japan against any military expenditures above what is absolutely necessary for home defense. Founded in 1954, the Japanese Self Defense Force even refuses to call its troops "military" due to such sensitivities.
What is surprising, therefore, is that the Japanese Defense Force is currently ranked fifth globally in overall military power after the United States, China, Russia, and India. Japan has a defense budget ranked sixth in the world according to Global Firepower.com, a site that publishes yearly military assessments of some 142 nations. Today, Japan is probably the world's most underestimated military power whose forces, in several categories, rival that of Britain and France. In recent years, Japan has acquired the best equipment and weapons it can buy, and its military buildup seems far from abating.
As a result, the Japanese Defense Force has grown to be a major player in joint exercises with U.S., Australia, Canada, Britain and France and other European and Southeast Asian nations.
What many Americans may not realize is that there are over fifty thousand American servicemembers and their families serving in Japan as a bulwark against aggression from China, Russia, and North Korea. By donating to Support Our Troops Patriot Brigade®, you will join thousands of patriots who make a monthly donation that pays for comfort items and recreational programs for our military deployed around the world.
Your donations for yellow ribbon care package troop support boosts the morale of active duty deployed service members like these worldwide.
Please go to our secure website https://supportourtroops.org/donate and support America's finest today!