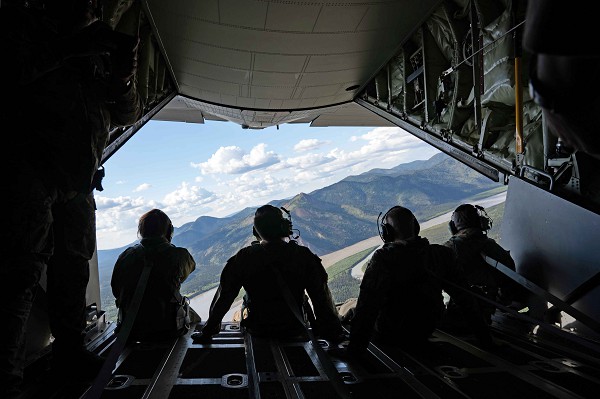 Kadena Air Base, Japan. (August 22, 2022): In this photo by Airman 1st Class Julia Lebens, U.S. Air Force Airmen enjoy the view as they sit on the ramp of a MC-130J Commando II aircraft assigned to the 1st Special Operations Squadron during Red Flag exercises held here recently. Red Flag is designed to give realistic training while testing interoperability between U.S. and Japanese forces in a simulated combat environment.
Kadena Air Base, Japan. (August 22, 2022): Put yourself in their shoes. Living on a chain of islands surrounded by traditional enemies, Japan tries to maintain a credible defense while hamstrung by a pacifist constitution that abhors militarism in all forms. Today, Japan is confronting an assertive China, a belligerent North Korea, and a Russian leader determined to expand its territory at her expense
As the fifth largest military in the world, Japan's Self Defense Force's firepower was recently on display (see above photo) in joint special operations exercises with the U.S. and allied militaries during recent Red Flag exercises on Japanese soil
America's 1st Special Operations Squadron, based at Hurlbut Field, Florida, and is garrisoned at Kedena Air Base, Japan, is one of the Air Force's most elite air wings that can deliver highly trained special warfare fighters anywhere in the Indo-Pacific. During Red Flag, Japanese and allied forces practice combat insertions, re-supply missions, and emergency extractions while testing interoperability among its member nations
In recent years, the Japanese public support for increasing military expenditures has increased, mostly due to the behavior of its hostile neighbors. In addition to the U.S. "Nuclear Shield", Japan depends upon American air and naval power to protect its territory from incursions by Russia and China and to counter an increasingly erratic North Korea
While our troops are deployed overseas, they often miss some of the "hard to get" items we take for granted stateside. That is why Support Our Troops established our Patriot Brigade® to buy and ship comfort packages to our deployed servicemembers. Your donations for yellow ribbon care package troop support boosts the morale of active duty deployed service members like these worldwide.
You can help by going to our secure website,https://supportourtroops.org/donate, to make your contribution to this worthy effort.