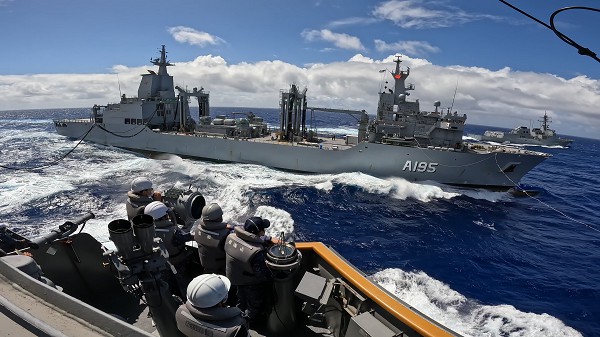 Pacific Ocean (July 26, 2022): In this photo by Petty Officer 1st Class Miura Naoto, the Japan Maritime Self-Defense Force Destroyer JS Takanami conducts replenishment-at-sea with the Royal Australian Navy oiler ship HMAS Supply during Rim of the Pacific Exercises (RIMPAC), 2022.
Pacific Ocean (July 26, 2022): What they do is not flashy. They are not the headliners in their navies, and there are no aircraft screaming off their decks. Yet what they do, replenishment at sea, is arguably the most important function in naval warfare.
That is not an exaggeration.
Pictured above are supply ships from two of twenty-six nations participating in the recent Rim of the Pacific (RIMPAC) exercises, the world's largest maritime training event to counter aggressive moves by China, North Korea, and Russia in the Indo-Pacific.
These vessels carry enough fuel, water, dry goods, ammunition, and equipment to sustain enormous combat ships at sea far from home. The JS Takanami, a 500-foot vessel with a crew of 175, has a dual mission to both resupply allied ships at sea and to conduct humanitarian relief when needed.
She is well armed, boasting the MK-41 Multiple Rocket Launching System to defend against attacking aircraft and Sea Sparrow anti-ship missiles for surface battles. Her Royal Australian Navy sister ship, the HMAS Supply, also participated in RIMPAC which this year involved 38 ships, 170 aircraft, and some 25,000 personnel. These exercises test each navy's ability to resupply their forces while protecting themselves from enemy attack.
Combat has not been their only mission, however. Both vessels have a storied history of responding to international crises, the Takanami joined rescue efforts after the devastating 2004 Indian Ocean earthquake and the HMAS Supply responded to calls for help from the island of Tonga following the recent Hunga Volcano earthquake and resulting tsunami. The ability of these ships to transport and deliver tons of vital supplies can mean life or death for innocent civilians caught up in these terrible disasters.
They make not make headlines, but these sailors who resupply the fleet are often the unsung heroes of naval warfare.
At Support Our Troops, we celebrate these brave warriors and their sacrifices while deployed overseas. Please join our efforts to sustain them and their families by donating to our Patriot Brigade® to make monthly contributions to their care at our secure website https://supportourtroops.org/donate and support America's finest today!