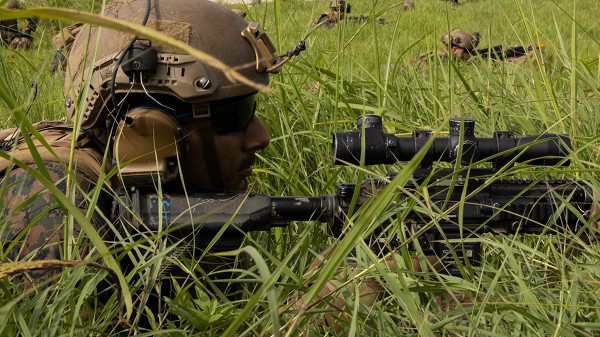 Okinawa, Japan. (August 10, 2022): In this photo by Corporal Christopher Lape, U.S. Marine Corps Lance Corporal Cristobal Denaoseguera, an infantry Marine with Battalion Landing Team 2/5, 31st Marine Expeditionary Unit, holds a defensive position during a helicopter raid exercise on le Shima, Okinawa. During these exercises, Marines train with Japanese Defense Forces to secure an objective and to create forward arming and refueling points. The 31st MEU operates aboard the USS Tripoli Amphibious Ready Group of the U.S. 7th Fleet.
Okinawa, Japan. (August 10, 2022): The Marines have landed… in Japan. That's right, Japan. What many Americans may not realize it that the U.S. still maintains a massive military presence on the Japanese islands that are strategically vital to the defense of the Indo-Pacific. In fact, Japan hosts over 50,000 American servicemembers and their families at 23 bases, most located on the island of Okinawa. The troops serve under a bilateral defense agreement with the Japanese Defense Forces to defend against neighborhood bullies like Russia and China.
For its part, the Japanese Defense Force boasts more than 900 warplanes, 48 destroyers, and 20 submarines as part of a recent arms buildup that includes the purchase of 147 F-35 Stealth fighters. This purchase gives Japan a larger stealth fighter fleet than Britain, Germany, and Italy. To further underscore their commitment to the alliance, Japan is now retrofitting two aircraft carriers, the Izumo and Kaga, which will be their first new flat tops since the end of World War II.
The famed 31st Marine Expeditionary Unit, based at Camp Hansen, Okinawa, is America's only permanently forward deployed crisis response force of some 2,200 Marines and sailors. The 31st MEU boasts a battalion size landing team reinforced with artillery and amphibious craft, and an air wing that includes both vertical landing tiltrotor airplanes and attack helicopters. U.S. Marine units regularly train with Japanese special operations forces to be ready to respond to military or humanitarian crises anywhere in the Indo-Pacific.
Let us do all we can to support these valiant servicemembers as they defend our nation thousands of miles from home. Your donations for yellow ribbon care package troop support boosts the morale of active duty deployed service members like these worldwide. Please go to our secure website https://supportourtroops.org/donate to make your contribution today.