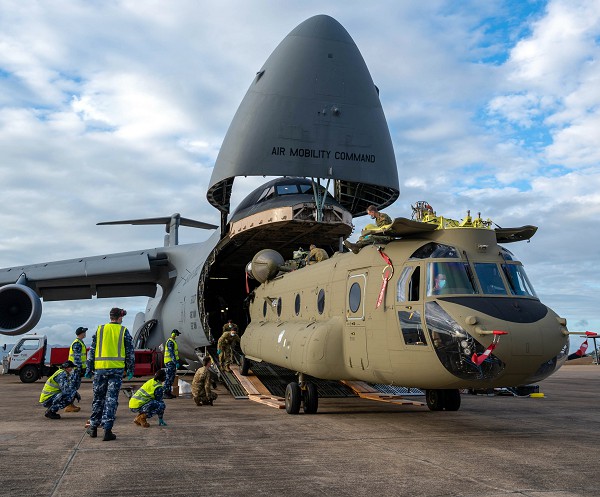 Townsville, Australia. (August 26, 2022): In this photo by Senior Airman Faith Schaefer, a U.S. CH-47F Chinook helicopter is unloaded from C-5 Super Galaxy transport plane at Royal Australian Air Force Base, Townsville, Australia as part of the Defense Department's Foreign Military Sales Program. The U.S. and Australia maintain a robust relationship based upon shared democratic values and a devotion to freedom and democracy. This strong alliance is key to the peace and stability in the Indo-Pacific to counter territorial designs by China.
Townsville, Australia. (August 26, 2022): No, an AUKUS is not a furry creature indigenous to Australia but rather a trilateral security agreement between Australia, Britain, and the United States to share defense technology, something China fears… and for good reason.
While provisions helping Australia acquire nuclear submarines has grabbed all the headlines, it is the "targeted" cooperation on advanced intelligence gathering technology, cyber warfare, and quantum computing that has Chinese war planners the most concerned.And they should be.
As Australia acquires these advanced defense technologies, the Chinese realize the threat it poses to their designs on the Indo-Pacific region. The prospect of Australian nuclear submarines operating continuously in the South China Sea has unnerved China, but it is the potential development of long-range missiles, advanced guided weapons, and large undersea drones that has them most alarmed.
In the photo above, U.S. airmen from Dover Air Force Base unload a CH47F Chinook helicopter as part of America's foreign military sales program to Australia and will be become part of the Royal Australian Air Force. American servicemembers are routinely deployed to help train and maintain these aircraft to ensure Australia has the tools it needs to police the Southwest Pacific.
As China continues its aggressive moves to secure land bases in the Indo-Pacific, we can expect more and more deployments to the region to support longtime allies like Australia.You can do a lot for troop morale by contributing funds for our Yellow Ribbon Care Packages program. By donating to Support Our Troops' Patriot Brigade®, you will join thousands of patriots who make monthly donations that pay for comfort items and recreational programs for our military deployed around the world. Please go to our secure website https://supportourtroops.org/donate to contribute to America's finest today!