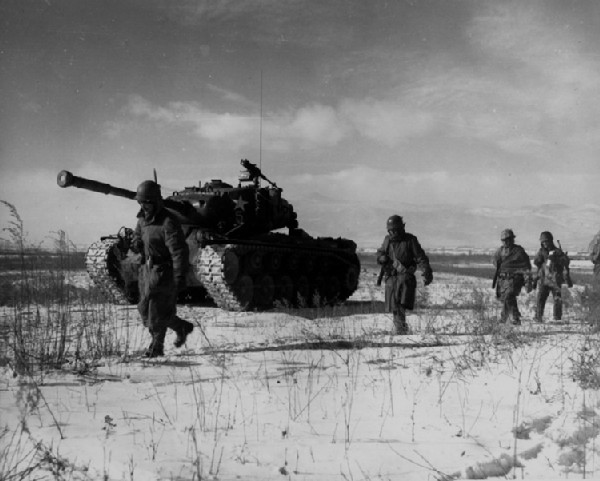 Chosin Reservoir, North Korea. (Oct. 18, 1950): In this classic Korean War photo, members of the U.S. 1st Marine Division, along with their surviving armor, move through Chinese lines in a successful break out from the battle of the Chosin Reservoir. The surprise attack by the Chinese Army surrounded American and South Korean defenders necessitating a brutal battle for survival legendary in the annals of Marine Corps history.
Seoul, South Korea. (Sept. 1, 2022): The ground beneath their feet was so frozen that foxholes could only be dug using explosives. Temperatures at night dropped to 30 degrees below zero as American and South Korean forces huddled around smudge pots for warmth, dreaming of a homecoming that was, for many, not to be.
General Douglas McArthur's brazen landings at Inchon had staggered the Communist North Korean's "People's Army" who were retreating north in panic. Pursued relentlessly by the U.S. Marine 1st Division and the Army's 7th Infantry Division, the remnants of the enemy fled north to the Chinese border and American commanders felt certain the war was all but over.
Unknown to McArthur, the Chinese had assembled a force of 33 divisions comprising 150,000 combat troops that began an all-out assault on the U.N. forces encircling the Americans and South Koreans at the Chosin Reservoir in September 1950. What followed was a brutal, 55-mile fighting withdrawal of 30,000 U.N. troops in freezing conditions through mountainous terrain. When the battle ended, over 6,000 Americans were dead and approximately 18,000 wounded, many suffering from frost bite. The toll for the Chinese was far worse with an estimated 50,000 dead, including Communist Chinese leader Mao ze Dong's eldest son.
When asked at the time whether his unit was retreating, Army Major General Oliver P. Smith declared, "Retreat hell! We are attacking in another direction."
A generation later, there are currently 28,500 American Army, Navy, and Marine Corps troops deployed to South Korea as a bulwark against an increasingly belligerent North Korea.
Please take a moment, right now, to show your support for these overseas deployed servicemembers by contributing funds to our Yellow Ribbon Care Packages campaign to boost morale. By donating to our Patriot Brigade®, you will join thousands of patriots who make monthly donations to pay for comfort items and recreational programs for our military deployed around the world. Please go to our secure website https://supportourtroops.org/donate to contribute to America's finest today!