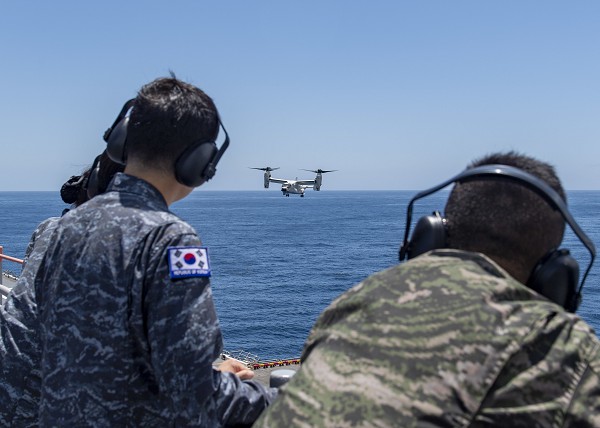 Pacific Ocean. (August 31, 2022): In this photo by Communications Specialist 2nd Class Brett McMinoway, U.S. Navy Sailors join members of the Republic of Korea Navy as they observe a CMV-22 Osprey tilt-rotor aircraft landing on the amphibious assault ship USS Essex. Assigned to the U.S. 3rd Fleet, the Essex and her crew routinely operate with their South Korean counterparts conducting flight operations to counter potential aggression from North Korea.
Pacific Ocean (August 31, 2022): "They that go down to the sea in ships, that do business in great waters." Psalm 107-33, King James Bible.
For centuries, sailors have answered the call to conduct "business in great waters" to both explore strange lands and to defend their nation from attack. Today, the U.S. Navy operates in great waters with their South Korean counterparts to counteract hostility from North Korean Dictator Kim Jong Un.

Despite its bravado, North Korea's navy is dwarfed by South Korea which has 160 ships including 12 Destroyers, 18 Frigates, and 22 submarines making her the third largest surface fleet in Asia. The Republic of Korea deploys some 70,000 sailors and features another 29,000 ROK Marines, some of the toughest war fighters in the world.
Joining this armada is the veritable USS Essex (pictured above), an 850-foot Wasp Class Amphibious Assault ship assigned to the U.S. 11th Marine Expeditionary Unit. The Essex has a crew of 73 officers and 1009 enlisted sailors who together ferry some 1,900 combat Marines into battle. With a 140-foot flight deck and a helicopter landing dock, the Essex fields over 30 aircraft including some of America's most advanced fighters. Well-armed, the Essex sports two NATO Sea Sparrow missile launchers, two 20mm Phalanx anti-aircraft batteries, and eight MK-22 50 caliber machine guns.
On November 25, 1944, the Essex was struck by a Japanese Kamikaze killing fifteen and wounding 44 sailors. Despite this devastating blow, she returned to play a vital role in the defeat of the Japanese on Okinawa and at the Battle of Iwo Jima. She is the recipient of an extraordinary 17 Battle Stars, a Presidential Unit Citation, and the Navy Unit Commendation for her service in the Korean War. Today, the Essex is based in San Diego, California, and routinely deploys for six months or more to missions in the Western Pacific.
While these heroic sailors and Marines are at sea, deployed far from home, it is important that every American show their support in these dangerous times. Please take a moment, right now, to show your support for these overseas deployed servicemembers by contributing funds to our Yellow Ribbon Care Packages campaign to boost morale. By donating to our Patriot Brigade®, you will join thousands of Americans who make monthly donations to pay for comfort items and recreational programs for our military deployed around the world. Please go to our secure website https://supportourtroops.org/donate to contribute to America's finest today!