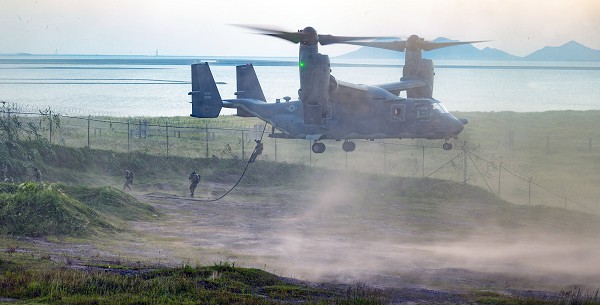 Kunsan Air Base, South Korea. (September 2, 2022): In this photo by Air Force Staff Sergeant Steven Adkins, Special Tactics Airmen fast rope down from a CV-22 Osprey tilt-rotor aircraft during joint training with the South Korean Air Force. Based at Kadena Air Base, Japan, these highly trained war fighters routinely deploy to assist their Republic of Korea comrades to confront North Korean aggression.
Kunsan Air Base, South Korea. (September 2, 2022): They may not be as flashy as the Navy SEALS, nor as famous as the Army's Green Berets, but the Air Force's Special Tactics Airmen are among the deadliest warriors in the world.
Based at the at Hurlbut Field, Florida, the 24th Special Operations Wing are routinely deployed to South Korea as part of America's mutual defense pact. In the photo above, Special Tactics Airmen are seen training with their Republic of Korea comrades to conduct combat insertions from the air. These special forces carry out some of the most heroic, and dangerous, missions in the military. From seizing enemy airfields to mounting daring rescues of personnel in some of the world's most remote locations, this Air Force Special Tactics Squadron is part of America's most elite, and clandestine services.
Operating out of Kunsan Air Base on the western coast of South Korea, these warriors train with the 8th Air Force Fighter Wing, also known as the "Wolf Pack". The base was originally built by the Japanese in 1938 and today houses some 2,800 Air Force personnel and the Army's 1st Air Defense Artillery Battalion, a Patriot Missile Battery that protects the installation from tactical ballistic missiles, cruise missiles, and attacks from advanced enemy aircraft. The "Wolf Pack" fields 16 advanced F-16 fighter jets whose mission in combat is air interdiction, close air support, and suppression of enemy defenses.
Today, Kunsan is one of the Air Force's last "warrior bases" in which airmen are assigned to one year "unaccompanied" tours of duty living in dormitories with no family members allowed. These year-long separations are a particular hardship on young families left to keep the home fires burning. As patriotic Americans, we should strive to make their deployments as tolerable as possible via a steady stream of Yellow Ribbon Care Packages paid for with donations to Support Our Troops Patriot Brigade®. Please take a moment, right now, to join the thousands of Americans who contribute monthly to send comfort items or to create recreational opportunities for these deployed servicemembers by visiting our secure website https://supportourtroops.org/donate