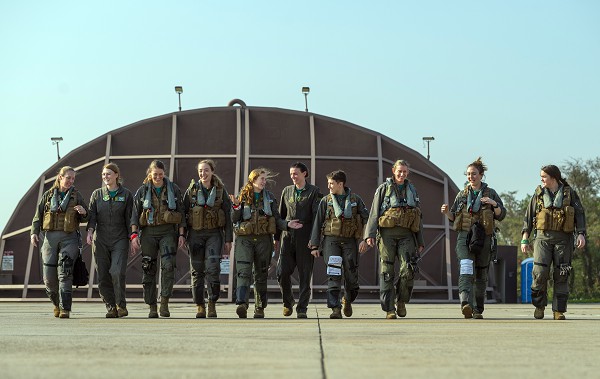 Osan Air Base, S. Korea. (September 5, 2022): In this photo by Air Force Technical Sergeant Vernon Young, Jr., pilots assigned to the 36th and 25th Fighter Squadrons fly an historic all-female mission over the skies of South Korea. The formation included eight flying the A-10 Thunderbolt II, and two flying F-16 Fighting Falcons, a first in American aviation.
Osan Air Base, S. Korea. (September 5, 2022): Move over Amelia Earhart, America's female fighter pilots now dominate the skies. By now, the fact that women routinely fly combat missions for America's armed forces is commonly accepted. Still, the image of a formation of the world's most lethal fighter jets, flying in formation with all-female crews remains an historic moment in U.S. military aviation.
Amelia Earhart was a pioneer who was the first female pilot to fly solo across the Atlantic in 1932. Eighty years later, female pilots are not only a common sight, but play a vital role in America's defense. The road to parity with male pilots however, especially in the armed forces, was anything but easy.
Ironically, the world's first female fighter pilot was not an American. The adopted daughter of Turkish President Mustafa Ataturk, Sabiha Gokcen logged over 8,000 hours flying both fighters and bomber aircraft in 32 military operations for the Turkish Air Force, all at the tender age of twenty-three. During World War I, a few female pilots volunteered, including Helene Dutrieu who joined France's Air Patrol in 1914 making flights from Paris to track the location of German troops.
It wasn't until World War II that American females began piloting military aircraft, over the initial objection of U.S. Army Air Corps Commanding General Henry "Hap" Arnold who said he wasn't sure "whether a slip of a girl could fight the controls of a B-17 Bomber in heavy weather." Facing a severe shortage of pilots, however, convinced Arnold to fill the void with an experimental program to train women to fly military aircraft so male pilots could be freed for combat duty. Thus, the Women Airforce Service Pilots (WASPs) was created in 1944. Over 1,100 women volunteered to fly all types of military aircraft, including B-26 and B-29 Bombers, ferrying new aircraft and even towing targets in live fire exercises. WASP pilots expected to continue flying in the military after the war, but the program was cancelled two years later.
It was not until 1993 that women were allowed to fly combat missions. Rosemary B. Mariner was the first woman to command a naval squadron during Operation Desert Storm and she retired as a Captain in 1997 after 24 years of service.
Please take a moment, right now, to show your support for these pioneering women, many of whom are currently deployed overseas, by contributing funds to our Yellow Ribbon Care Packages campaign. By donating to our Patriot Brigade®, you will join thousands of Americans who make monthly donations to pay for comfort items and recreational programs for our military servicemembers deployed around the world. Please go to our secure website https://supportourtroops.org/donate to contribute to America's finest today!