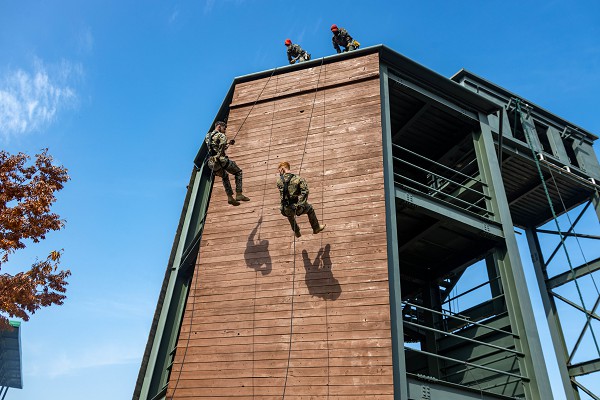 Pohang, South Korea. (September 1, 2022): In this photo by Marine Lance Corporal Alpha Hernandez, U.S. Marines with the 2nd Battalion, 3rd Marine Division rappel down an obstacle as part of a joint training program with Republic of Korea (ROK) Marines. U.S. and ROK Marines are a highly lethal combination who are clearly the world's most dangerous seaborne infantry.
Pohang, South Korea. (September 1, 2022): Among brothers, there is no language or cultural barriers… only a common desire to win.
America's commitment to the defense of South Korea is anchored by the presence of the world's most lethal seaborne infantry, the U.S. Marines. While the Marines motto is Semper Fidelis (always faithful), the ROK Marine philosophy is to be prepared to "fight tonight". With over 6,000 North Korean artillery pieces trained on their capital, ROK Marines know there will be little time to respond, and that they must be ready to battle on a moments' notice.
Although one of the poorest countries in the world, North Korea nevertheless spends nearly one quarter of its Gross Domestic Product on its military according to the U.S. State Department. Its army is large with 1.3 million on active duty, nearly 5 percent of its total population, and another 600,000 in reserves. Although many analysts believe North Korea's military is in decline, comprised of decades old aircraft of Soviet or Chinese origin and tanks dating to the Korean conflict, their sheer numbers are a major concern.
The ROK Army has 625,000 troops on active duty with another 3 million in reserves and, unlike in America, all Korean men, age 18 to 35, must join the military for 18 months of compulsory service. Although women are not drafted, they are allowed to serve. Thanks to the Americans, the Republic of Korea fields a highly modern force that would be no match for Kim Jong Un should he be foolish enough to attack.
America can be justly proud of these young warriors as they deploy overseas to serve this great nation. Why not show your support by contributing funds to our Yellow Ribbon Care Packages campaign to boost morale. By donating to our Patriot Brigade®, you will join thousands of Americans who make monthly donations to pay for comfort items and recreational programs for our military deployed around the world. Please go to our secure website https://supportourtroops.org/donate to contribute to America's finest today!