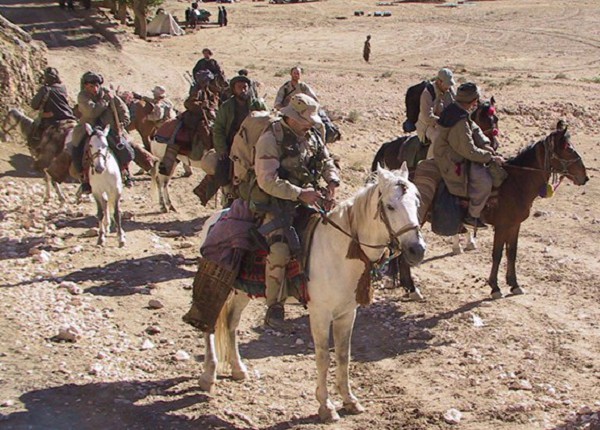 Sho-I-Khot Valley, Afghanistan. (October 21, 2001): In one of the most iconic photos of the Afghan War, members of the U.S. 5th Special Forces (Airborne) Green Berets ride horseback into battle with seasoned Afghan horsemen to locate and kill Taliban fighters as they threw the first punch from a righteously angry America.
As images of the towers falling in New York appeared on televisions around the world, an angry America's demand for justice fell squarely on the U.S. Military who would soon rain hell down upon the murderous terrorists and those that harbored and supported them.
Within hours, U.S. Special Forces planners launched Task Force Dagger to strike at the very heart of the Taliban regime through very unconventional means. The famous Green Berets of the 5th Special Forces (Airborne) would be the tip of the spear by inserting into Afghanistan to link up with local war lords and resistance fighters called the Northern Alliance.
First, these special operators had to be flown into mountainous Afghanistan by the famed 160th Special Operations Regiment (Airborne), an elite group of courageous pilots who would later fly our warriors into Pakistan to kill or capture Osama Bin Laden. Flying at altitudes above 20,000 feet in blinding weather, the 160th departed from neighboring Uzbekistan over the imposing Hindu Kush Mountains to land Green Berets literally back in time. Waiting to receive them were various ethnic groups, many of whom were traditional enemies, who had been individually fighting the Taliban regime.
The 5th Special Forces' mission was to unite, train and equip Northern Alliance fighters, despite ethnic and language barriers, with 21st century technology and tactics in the most primitive conditions. The Green Berets found themselves in a place with dirt roads, impassible mountains, and no modern modes of transportation where it was often impossible to distinguish between friend from foe.
The mission resulted in some of the most iconic images of the Afghan war, American special forces soldiers riding horseback beside skilled Afghan horsemen as they relentlessly pursued and killed Taliban fighters loyal to Osama Bin Laden. This was the epitome of the Army's motto; "Adjust, Improvise, Overcome" which became the first, but not the last, dagger placed in the heart of the Taliban as righteous payback for their role in the cold-blooded murder of thousands of innocent Americans.
As we reflect on these images of American warriors riding horseback into victory, we should remember our current crop of active duty deployed servicemembers. Please consider showing your support for our deployed overseas servicemembers by contributing funds to Support Our Troops' Patriot Brigade®.
Here you will join thousands of patriots who make monthly donations to pay for comfort items and recreational programs for our military deployed overseas. Please go to our secure website SupportOurTroops.Org/donate to contribute to America's finest today!