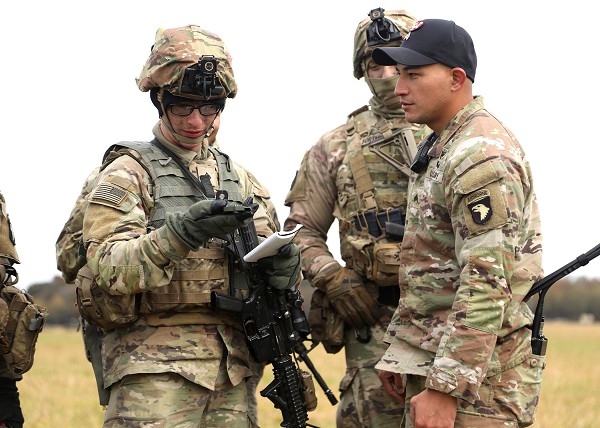 Fort Campbell, KY. (September 9, 2022): In the photo by Staff Sergeant Joshua Tverberg, Private First Class Tanner Chaney, an infantryman with A Company, 1st Battalion, 327th Infantry Regiment, 101st Airborne Division (Air Assault), shoots an azimuth with his compass to determine a landing zone as Sergeant Brandon Quintalla, an instructor with the Sabaluski Air Assault School, supervises during training at Corregidor Drop Zone, Fort Campbell, Kentucky. These are today's version of Screaming Eagles who fought so courageously in Afghanistan and continue to defend our nation to this day.
Fort Campbell, KY. (September 9, 2022): It's not smart to taunt a screaming eagle. This is a lesson learned by Al-Qaeda fighters while holed up in caves under attack by elements of the 101st Airborne Division's Screaming Eagles. While certainly not a decisive battle in America's response to 911, it nevertheless is emblematic of the cleverness and tenacity of America's fighting forces.
The encounter was part of a huge, allied attack dubbed Operation Anaconda involving some 2,000 troops including 1,100 American Airborne and Special Forces units in the early days after the attack on the World Trade Center. The 101st Airborne, 3rd Brigade Combat team had deployed to Afghanistan in November 2001 and by March was positioned in the mountains above the Shoh-I-Khot Valley, a major Taliban and Al Qaeda stronghold.
The Rakkasans, a nickname given the 101st Airborne as the only unit to parachute onto Japanese soil, blocked the terrorist's escape by establishing firing positions above the valley to call in air strikes on enemy positions. 101st Airborne Captain Kevin Butler watched as enemy fighters fired from caves in the hillside, only to duck inside just as American air power came to bear on their positions. After each unsuccessful airstrike, the Taliban would emerge from their mountain hideouts to wave and taunt the Screaming Eagles while firing their machine guns and mortars, an act that infuriated the Americans. Captain Butler, fed up with their jeers and arrogance, raced 45 meters up a hill, six times exposing himself to enemy fire, to pinpoint the enemy positions to improve the accuracy of American airstrikes.
He then hatched a clever trick. He instructed his fighters to carefully time the firing of their 60 mm mortars to explode above the enemy caves, immediately after they were struck with bombs launched from nearby 5-15 Eagle fighters. When the Al-Qaeda terrorists emerged from their safe positions to heckle the Americans, the carefully placed mortars exploded, killing most of them on the spot.
When airborne troops eventually reached their abandoned firing positions, all they found in the caves were discarded weapons. If there were any survivors, they learned a very valuable lesson that day. You don't attack Americans, anywhere, and think you can get away with it.
One cannot help but swell with pride when reading these accounts of American bravery under fire and the determination of U.S. troops to settle the score with the cowards that attacked us on September 11th. Our active duty servicemembers today are just as committed to defending our nation against all comers and they deserve our enthusiastic support. Please consider showing your support for our deployed overseas servicemembers by contributing funds to Support Our Troops' Patriot Brigade®. Here you will join thousands of patriots who make monthly donations to pay for comfort items and recreational programs for our military deployed overseas. Please go to our secure website supportourtroops.org/donate to contribute to America's finest today!