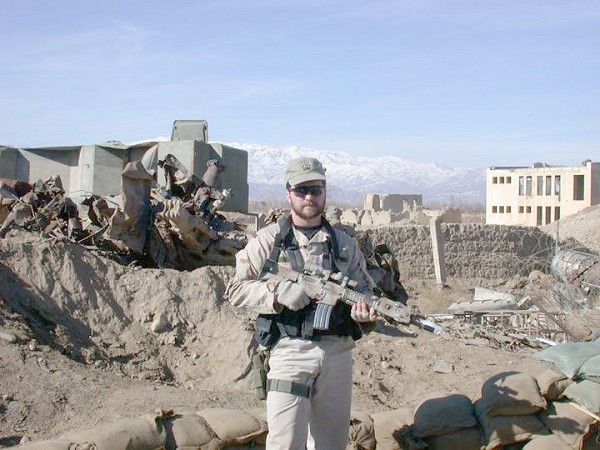 Washington, D.C. (August 22, 2018): President Donald Trump posthumously awarded the Medal of Honor to the family of Tech. Sgt. John A. Chapman, U.S. Air Force Special Tactics Combat Controller, during a ceremony recognizing his extraordinary heroism while deployed to Afghanistan. Tech Sgt. Chapman was recognized "for conspicuous gallantry and tepidity at the risk of life above and beyond the call of duty."
Washington, D.C. (August 22, 2018): Greater love has no one than this: to lay down one's life for one's friends. John 15:13It was 1 a.m. when a reconnaissance team boarded a U.S. Army helicopter bound for the 10,000-foot Mountain Takur Ghar, Afghanistan, part of a massive assault dubbed Operation Anaconda.
In what would become known as the "Battle of Roberts Ridge", the recon team included Air Force Combat Controller Tech Sergeant John A. Chapman along with Navy SEALs whose were to establish observation posts to direct U.S. air power against enemy targets.
Unaware they were landing in an enemy stronghold, the U.S. chopper was hit with rocket propelled grenades and ground fire, causing Navy Seal Neil Roberts to fall from the helicopter into enemy hands. Heavily damaged, the Army MH-47E helicopter made an emergency landing three miles away. Tech Sgt. Chapman immediately organized a rescue effort to retrieve his friend Roberts. Another helicopter picked the team up and they returned to the mountain peak where Roberts had fallen, determined to deliver their comrade from the clutches of the enemy.
Once the rescue team landed, they immediately came under intense enemy fire from three directions. Sgt. Chapman sprang from the chopper, charging up a snow-covered hill to attack one of several fortified enemy positions. Upon reaching the first enemy bunker, Sgt. Chapman engaged and killed its occupants and then quickly moved to attack a second enemy position where he was mortally wounded. Despite his injuries, Chapman continued fighting relentlessly until a quick reaction force arrived and silenced the enemy guns.
Sgt. Chapman succumbed to his wounds, but only after saving the lives of his fellow Americans earning him our nation's highest honor, the Congressional Medal of Honor. He was also posthumously promoted to Master Sergeant by a grateful Air Force.
It is hard not to experience chills when reading about the raw courage and valor of young warriors like Chapman. Today, we have thousands of servicemembers deployed around the world ready and willing to lay down their lives for their friends, and country.
Please consider showing your support for our deployed overseas servicemembers by contributing funds to Support Our Troops' Patriot Brigade®. Here you will join thousands of patriots who make monthly donations to pay for comfort items and recreational programs for our military deployed overseas. Please go to our secure website SupportOurTroops.Org/donate to contribute to America's finest today!
Editor's Note: Navy Seal Neil Roberts died on the battlefield from direct fire. In addition to a Silver Star, Roberts posthumously received a Bronze Star Medal with Valor and a Purple Heart.