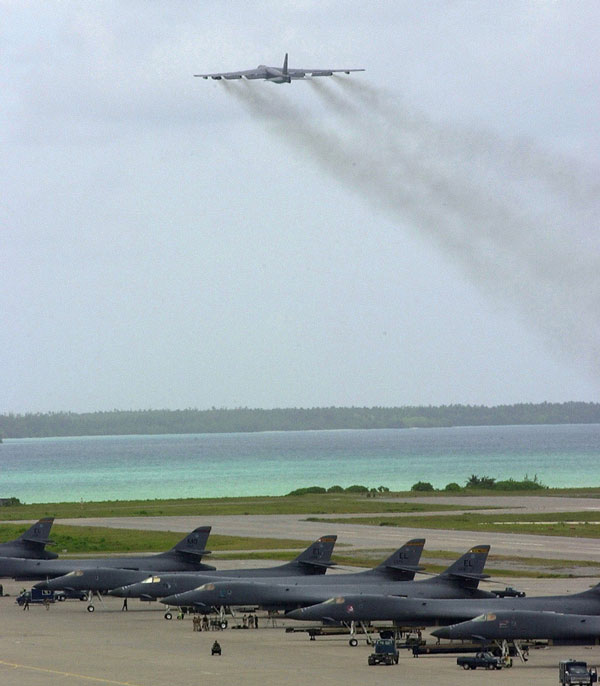 Diego Garcia, Indian Ocean. (Oct. 22, 2001): In this photo by Staff Sergeant Shane Cuomo, an Air Force B-52 bomber from the 28th Expeditionary Wing takes off from Diego Garcia for a combat mission in support of Operation Enduring Freedom. American B-52s, B-1, and B-2 bombers expended more than 80 percent of the tonnage dropped during 600 sorties over Afghanistan. B-52 bombers also provided close air support to Army and Marine ground forces, a first since the Viet Nam War.
"I remember watching the B-52s with their fighter escorts as they flew over our camp. Minutes later, we could hear the thunder as the ground literally shook under our feet. My only thought was "It must be a living hell to be on the receiving end of that!"
SSG Jim Spearing (Ret)
Operation Desert Storm
Diego Garcia, Indian Ocean. (Oct. 22, 2001): Their pilots are younger than the aircraft they fly, by decades. Capable of delivering tons of high explosives from as far as 8,800 miles away, the veritable B-52 bomber is the ultimate symbol of American dominance and firepower… something the Al Qaeda and Taliban terrorists were soon to learn.
The legendary U.S. Army's 1st of the 87th Infantry, 10th Mountain Division was moving into positions along a valley near Marzak , Afghanistan when they began taking sporadic fire from Taliban and Al Qaeda fighters from caves and well-fortified positions in the ridges above them. The enemy was clearly familiar with the terrain and had carefully targeted the area with their mortars. As the 10th Mountain infantry arrived, the enemy began pouring highly accurate fire onto their positions. As casualties began to mount, the call went out for air support. Within five minutes, a B-52 bomber flying above the battlefield scored a direct hit on the enemy ending all movement and relieving the beleaguered soldiers. These dauntless warriors would join the thousands of American servicemembers rescued by the devastating firepower of the lethal B-52 bomber.
The B-52 strikes are typically the province of the Air Force's Combat Controllers, special operators who use their air traffic control skills to coordinate with ground units to select targets for destruction. One such Combat Controller and recipient of the Silver Star Chief Master Sergeant Calvin Markham explained the demoralizing effect the B-52 strikes had on Taliban and Al Qaeda fighters.
"It annihilated the enemy," MSgt. Markham commented. "I think it really broke their will to fight. Losing a dozen or so fighters in one engagement (they could handle), but when you're talking about losing hundreds of enemy combatants in a single strike, it gets the other guys thinking maybe we should retreat."
According to weapons Master Sergeant Keith Gamble, the strikes had an equally powerful effect on our Afghan allies. "Once we started dropping bombs on the enemy, their attitude changed," he said. "They were loving us. A lot of sodas and good food came out. We were their heroes."
American heroes, like these, are currently deployed overseas defending our way of life. As patriotic Americans, we have an equal duty to do whatever we can to ease their burden while serving. Please show your support for our deployed overseas servicemembers by contributing funds to Support Our Troops' Patriot Brigade®. Here you will join thousands of patriots who make monthly donations to pay for comfort items and recreational programs for our military deployed overseas. Please go to our secure website SupportOurTroops.Org/donate to contribute to America's finest today!