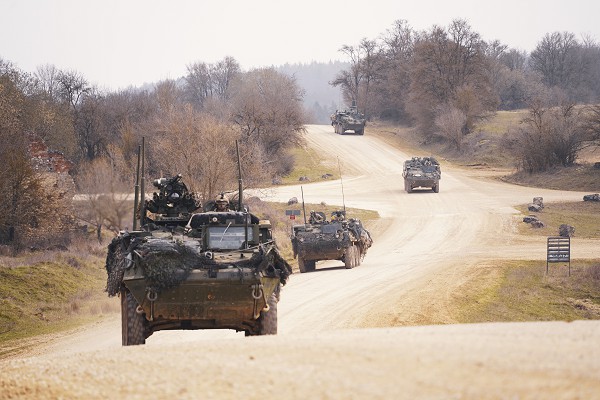 Vilseck, Germany. (September 10, 2022): In this photo by Sergeant LaShic Patterson, U.S. Army Stryker vehicle variants, assigned to the 2nd Cavalry Regiment, maneuver downhill during Dragoon Ready exercises at Hohenfels Training Area, Germany. The 2nd Cavalry has the distinction of being the longest active serving Cavalry Regiment in the Army.
Vilseck, Germany. (September 10, 2022): When Americans face military aggression anywhere in the world, we call out the U.S. Cavalry. Today, Support Our Troops, a U.S. based charity dedicated to improving the lives of active duty deployed servicemembers, was awarded an Army Certificate of Achievement by the 1st Squadron, 2nd Cavalry Regiment for their charitable efforts to boost troop morale.
The 2d Cavalry Regiment (Dragoons) are a U.S. Army brigade combat team, headquartered at Rose Barracks in Vilseck, Germany which has the distinction of being the longest active serving Cavalry Regiment in the Army. The unit is a modern, rapidly deployable force of over 5,000 Dragoons (soldiers). They are currently assigned to rapid deployment to Poland as part of NATO's reinforcements countering Russian aggression in Ukraine.
According to old German literature, the name "Dragoons" dates to the early 1620s and refers to the main weapon they carried, typically a flintlock musket nicknamed the Dragon.
The 1st Squadron Dragoons, nicknamed the "War Eagles", ride into battle astride Stryker combat vehicles, highly mobile light armored troop transports ideal for land warfare. In addition to its three infantry battalions, the 2nd Cavalry has a cavalry squadron for reconnaissance, surveillance and target acquisition, a brigade support battalion, a field artillery battalion, a military intelligence company, an engineer company, a signal company, and an anti-tank company.
The Certificate of Achievement recognizes Support Our Troops for its "dedication to the Battle Group's Polish soldiers through selfless volunteering providing care packages and support that lifted the spirits of all soldiers" and for "heartfelt dedication to the service of the men and women who sacrifice so much while serving in the military. The Certificate was signed by the Battle Group Commander Lt. Colonel Jason N. Adler.
We at Support Our Troops are humbled and honored to receive this important recognition from our overseas deployed servicemembers. If you would like to help support proud units, like these, please consider showing your support for our deployed overseas servicemembers by contributing funds to Support Our Troops' Patriot Brigade®. Here you will join thousands of patriots who make monthly donations to pay for comfort items and recreational programs for our military deployed overseas. Please go to our secure website SupportOurTroops.Org/donate to contribute to America's finest today!