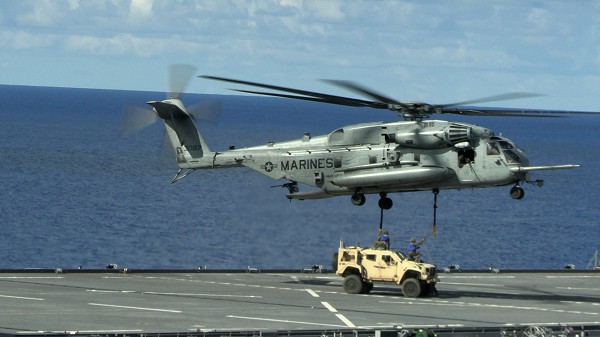 Philippine Sea. (September 9, 2022): In this photo by Lance Corporal Christopher England, a U.S. Marine CH-53S Super Stallion , with the Marine Medium Tiltrotor Squadron 262, 31st Marine Expeditionary Unit, is attached to a joint light tactical vehicle by Marines from Combat Logistics Battalion 31 aboard the USS Miguel Keith in the Philippine Sea. This exercise proves the Marines can bring heavy equipment into the most remote areas while operating aboard ships from the Tripoli Amphibious Ready Group.
Philippine Sea. (September 9, 2022): It is an age-old problem. How do militaries move their heaviest equipment, tools often critical to the outcome of a battle, into remote locations where they are most needed?
In 218 BC, Hannibal (age 28) and his soldiers solved their heavy lift problem by using 37 African elephants to transport supplies into battle. Instead of following the coastline, Hannibal marched his elephant borne infantry from Spain over the Alps to Italy to the total surprise of the Roman Army.
In 1812, Napoleon failed to conquer Russia. in part because the wooden wheeled carts he used to move his artillery pieces sank into the snow and mud before making it to the battlefield.
In May 1954, the French Army was defeated at the Battle of Dien Bien Phu by, among other things, artillery fire from the steep mountains surrounding their jungle base. The French generals dismissed the idea of the Viet Minh transporting heavy artillery into the mountains as impossible until the shells began to fall. The enemy had broken down their cannons into single pieces which were then carried on the backs of soldiers up the mountain and then reassembled and used to devastating effect. The French surrendered their garrison and thus ended years of French colonial rule.
Today's Marines are fortunate to have the mighty CH-53S Super Stallion helicopter to deliver their weighty equipment over oceans and mountains virtually anywhere in the world. The Sea Stallion has a remarkable pedigree. Manufactured by Sikorsky Aircraft, the CH-53 first rolled off the assembly line in 1967 with 126 aircraft delivered to the Marine Corps by 1971. Since then, the Sea Stallion has played a vital role transporting Marines, tanks, artillery pieces and armored personnel carriers to some of the most remote, inhospitable places on earth.
The Sea Stallion crew consists of two pilots and one aircrewman with the capacity to ferry up to 37 troops into battle at one time. Its powerful twin turboshaft engines can achieve air speeds of 160 knots (185 mph) carrying internal loads of up to 8,000 pounds and external loads of 13,000 pounds. She is armed with both 7.62 mm and 50 caliber machine guns mounted on the doors to respond to enemy ground fire.
This reliable old mainstay will soon be replaced by newer aircraft such as the MV-22 Osprey tiltrotor airplane, but she continues to serve our troops well no matter the mission. The Marines know they can count on the Sea Stallion to perform when needed. They should also know that the American people are with them as they perform their dangerous tasks.
Please consider showing your support by contributing funds to Support Our Troops' Patriot Brigade®. Here you will join thousands of patriots who make monthly donations to pay for comfort items and recreational programs for our military deployed overseas. Please go to our secure website https://supportourtroops.org/donate to contribute to America's finest today!