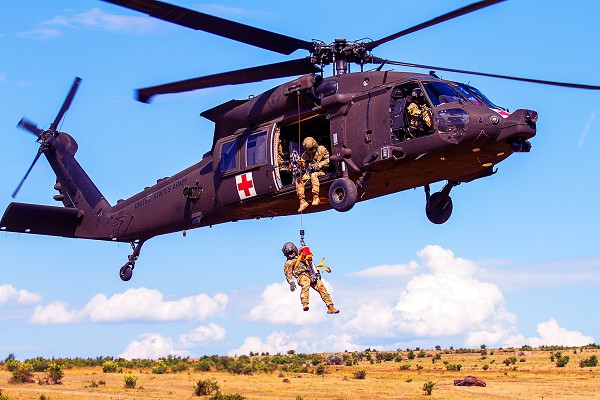 Babadag Training Area, Romania. (September 12, 2022): In this photo by Captain Taylor Chriswell, an HH-60 Medevac helicopter and crew assigned to C Company, 2-227 General Support Aviation Battalion hoist a simulated casualty during personnel recovery training with the United Kingdom in Romania. U.S. troops are relocating to Romania from bases in Germany to shore up NATO's eastern flank against attacks by the Russians who illegally invaded nearby Ukraine.
Babadag Training Area, Romania. (September 18, 2022): Imagine you are a soldier deep behind enemy lines, wounded, and desperate for someone to rescue you before the enemy closes in. Suddenly you hear the familiar sound of rotor blades cutting the air as the Army's HH-60 Black Hawk descends like an angel from the sky, lifting you to safety.
First flown in 2017, the UH-60 version of the Black Hawk is outfitted specifically for personnel recovery/medical evacuation duty. The Black Hawk sports twin General Electric Aviation built T700 engines designed for inclement weather and even has a special inlet which spits out dirt, sand, and dust in desert conditions. This baby cruises at speeds up to 170 mph and can transport an entire 11 person fully equipped infantry squad in all weather conditions day or night. The craft is flown by two pilots assisted by two crew chiefs and is armed with two 7.82 mm machine guns for protection.
The Army has greatly improved passenger safety as each Black Hawk's critical systems are armored and the fuselage is designed to crush progressively on impact in a crash. Black Hawk pilots undergo 13 weeks of intensive training at the 212th Aviation Regiment at Fort Rucker, Alabama where they learn pre-flight, basic flight maneuvers, emergency procedures, and to fly at night under hazardous conditions.
It takes courage and skill to fly these "angels" to rescue fellow servicemembers and every American should be proud of the men and women who accept this challenge. These Army aviators and their families deserve our total support, especially when deployed overseas. Please consider showing your support by contributing funds to Support Our Troops' Patriot Brigade®. Here you will join thousands of patriots who make monthly donations to pay for comfort items and recreational programs for our military deployed overseas. Please go to our secure website https://supportourtroops.org/donate to contribute to America's finest today!