"The helicopter approaches closer than any other (vehicle) to fulfillment of mankind's ancient dream of the flying horse and the magic carpet."
Igor Sikorsky, founder of Sikorsky Aircraft Company.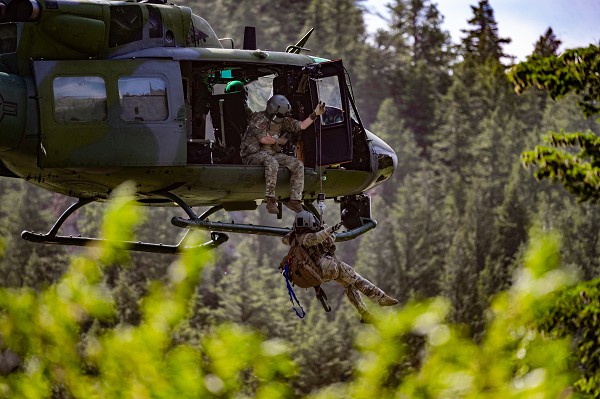 Sluice Boxes State Park, Montana. (September 10, 2022): In this photo by Airman 1st Class Mary Bowers, Tech. Sergeant Alex Landers, a flight engineer with the 40th Helicopter Squadron, lowers 341st Medical Group flight doctor Major Joyanne Tesei during search and rescue missions at Sluice Boxes State Park, Montana. The "Old Reliable" UH-1H Huey helicopter, which was the Army's mainstay during the Viet Nam War, is still in service rescuing downed pilots today.
Sluice Boxes State Park, Montana. (September 10, 2022): It was during the Korean War that helicopters began making medical evacuations immortalized by television shows like MASH in the 1980s. Today, our servicemembers can take for granted that, should they be injured or need to be evacuated, military helicopters will always answer the call.
In the photo above, a fully trained physician is lowered to the ground from the legendary UH-1H "Huey" helicopter as part of search and rescue training. The 40th Helicopter Squadron is part of the 37th Air Rescue and Recovery Squadron under the Military Airlift Command at Malmstrom Air Force Base, Montana. The 37th was activated during the Korean War when helicopters were first used for medical evacuation and the unit carried out numerous search and rescue operations throughout Southeast Asia during the Viet Nam War.
The "Huey" can carry up to 13 passengers at a gross weight of 10,500 pounds and can cruise at 145 mph with a range of 300 miles. The 40th Helicopter Squadron is credited with saving more than 425 lives since 1973 and has logged over 145,000 flying hours providing security for the 341st Intercontinental Missile Wing. The unit is responsible for flexible, rapid-response airlift support for DOD weapons convoys as well as personnel and logistics transportation.
Flight surgeons receive their initial 24 weeks training at the U.S. Air Force School of Aerospace Medicine at Wright-Patterson Air Force Base, Ohio. The term "flight surgeon" was coined in 1918 during World War I when General "Black Jack" Pershing recognized the need for medical assistance in France. In the first year of flying, 90 percent of aircraft losses were due to human failure, leading General Pershing to establish an Aviation Medical Research Board to reverse this trend. Today, flight surgeons investigate all conditions that would affect pilot efficiency, conduct experiments to determine the ability to fly at high altitudes, and study methods for delivering oxygen to pilots. All pilots must pass flight surgeon muster to keep their wings.
One cannot help but feel a sense of awe at the heroism of these pilots and crew that risk their lives for their fellow servicemembers. You can show your support by contributing funds to Support Our Troops' Patriot Brigade®. Here you will join thousands of patriots who make monthly donations to pay for comfort items and recreational programs for our military deployed overseas. Please go to our secure website supportourtroops.org/donate to contribute to America's finest today!