THE LEAST SOUGHT-AFTER MILITARY HONOR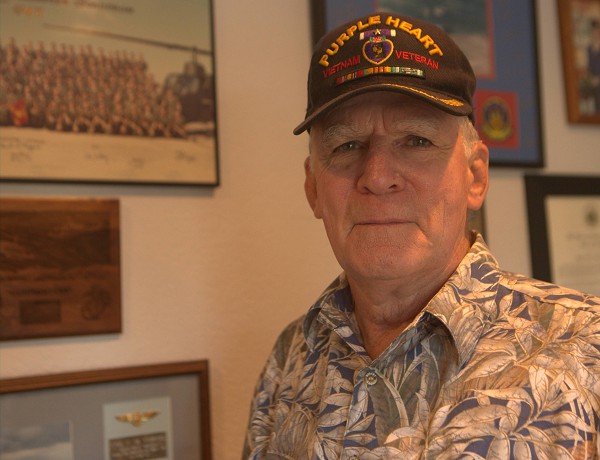 Temple, PA. (September 24, 2022): It is the "medal" no servicemember wants. The Purple Heart medal is awarded to those who have been wounded or killed in combat and, according to the National Purple Heart Hall of Honor, more than 1.8 million Americans have been presented the award.

One such recipient is retired Marine Corps Colonel Skip Curtis (pictured above) who served as a chopper pilot from 1965 to 1996 and earned his second Purple Heart after he and his crew were shot down over Viet Nam. Like millions of servicemembers before him, Colonel Curtis was characteristically humble about his accomplishments saying simply, "It was one of those things that happened that I'll never be able to forget, What did I do that day? Just flew the helicopter."
It was none other than General George Washington who created the forerunner to the Purple Heart in 1782. Originally called the "Badge of Military Merit, the award was the first to be awarded to ordinary servicemembers. Up until then, only officers who won major engagements were awarded medals making the new medal truly by the people and for the people.
The first recipients of the award were Revolutionary War soldiers William Brown and Elijah Churchill in honor of their service in 1781 fighting the British at the Siege of Yorktown and the Battle of St. George at Long Island, respectively. The men were recognized by Washington for their "singularly meritorious action" and its wearer was permitted to pass guards and sentinels without challenge.
The most famous wearer of the Purple Heart was President John F. Kennedy for wounds received when a Japanese destroyer rammed his PT Boat off the Solomon Islands during World War II. Made famous in the movie PT 109, the future president dragged a comrade across miles of ocean to safety.
The first female awarded the honor was Cordelia "Betty" Cook, an Army nurse injured by shrapnel while treated wounded on the Italian front. The record for the largest number of Purple Hearts was Curry T. Haynes, an Army soldier awarded nine medals for a single assault dodging multiple grenades costing him two fingers. He passed away in 2017 from cancer.
Unfortunately, many Purple Hearts are awarded posthumously.
While not a sought-after decoration, the Purple Heart honors our valiant servicemembers for making the most extreme sacrifices to keep our nation free. Please consider showing your support for today's servicemembers deployed overseas by contributing funds to Support Our Troops' Patriot Brigade®.
Here you will join thousands of patriots who make monthly donations to pay for comfort items and recreational programs for our military deployed overseas. Please go to our secure website https://supportourtroops.org/donate to contribute to America's finest today!