AN AWARD WHERE THE "V" MAKES ALL THE DIFFERENCE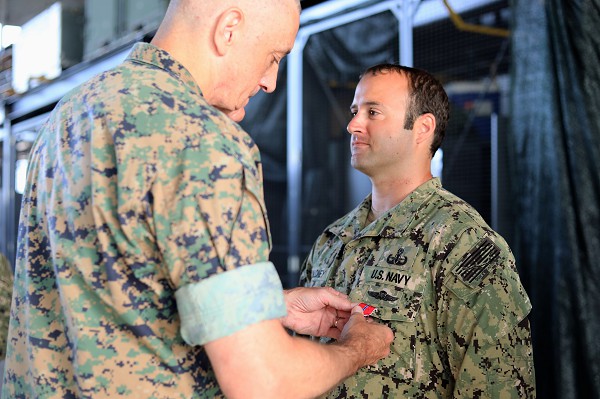 Naval Station Rota, Spain. (September 22, 2022): In this photo by Seaman Julleos Fernandez, Major General David Coffman, Director of Expeditionary Warfare, presents the Bronze Star Medal to Explosive Ordnance Disposal Technician Senior Petty Officer Joseph L. Maloney for service while deployed in support of Operation Inherent Resolve in Iraq. The Bronze Star dates to World War II and is the fourth highest award a servicemember can receive for a heroic and meritorious deed in an armed conflict.
Naval Station Rota, Spain. (September 22, 2022): Army Colonel Russell Reeder was himself an American hero, even Hollywood standards. In 1944, Colonel Reeder commanded the 12th Infantry Regiment, 4th Infantry Division's 3,000-man soldiers on D-Day. His unit was dropped two miles from their landing site forcing Col. Reeder and his regiment to fight off Utah beach and attack inland. Col. Reeder was hit by enemy artillery, injuring his led which was later amputated. He was awarded the Distinguished Service Cross, Silver Star, and the Purple Heart.
His exploits became a book and later the 1955 film The Long Gray Line starring Tyron Power.
What is not common knowledge is the critical role this American hero played in creating the Bronze Star Medal we know today. While working in Washington D.C., Colonel Reeder wanted to develop a new award that small unit commanders could give to reward their servicemembers for extended periods of meritorious service in combat or for common acts of heroism. The Colonel wanted the medals awarded quickly, without lengthy delays and red tape.
Today, the Bronze Star is the military's fourth highest award and thousands have been awarded since its inception. Much rarer are those receiving a V-device for combat gallantry as only one in forty Bronze Stars are conferred for personal courage under fire.
It is difficult as a patriotic American not be in awe of warfighters like Colonel Reeder throughout our proud history. Please consider showing your support for today's heroes by contributing funds to Support Our Troops' Patriot Brigade®.Here you will join thousands of patriots who make monthly donations to pay for comfort items and recreational programs for our military deployed overseas. Please go to our secure website https://supportourtroops.org/donate to contribute to America's finest today!