AWARD RECOGNIZES MARINE HERO AFTER 70 YEARS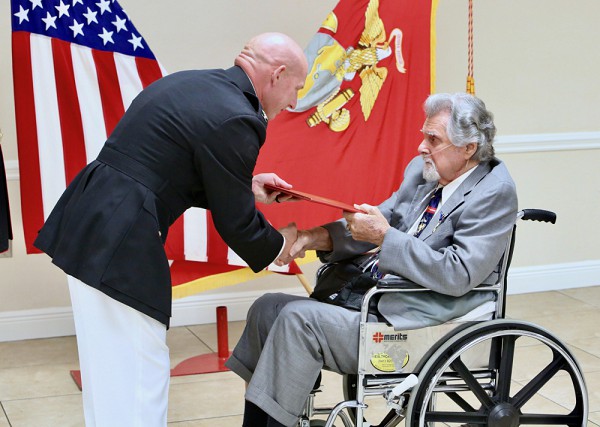 Sarasota, FL. (September 17, 2021): In this photo by Gunnery Sergeant Eric Alabiso, U.S. Marine Corps Chief of Staff Colonel John Polidoro pins the Silver Star upon Corporal Salvatore Naimo, seventy years after his heroic actions in the Korean War. Due to a series of tragic mishaps, Corporal Naimo was never formally recognized for risking his life to save fellow Marines (details below).
Sarasota, FL. (September 17, 2021): It was September 14, 1951, when Corporal Salvatore Naimo and his Marine comrades huddled together in foxholes just north of the 38th Parallel in Korea waiting for another charge from their Chinese enemy. Assigned to H Company, 5th Marines, Cpl. Naimo was 19 years old and already a hardened veteran of the brutal fighting that defined the Korean War. On this day, the Chinese attacked with mortars and cannons followed by waves of infantry. As rifle fire and grenades bombarded his position, two fellow Marines were gravely wounded. Ignoring his own safety, Cpl. Naimo dragged the first wounded Marine to the company corpsman in the rear, suffering his own wounds from artillery fire along the way.
Stopping just long enough to have his wounds patched up, Cpl. Naimo raced back to the fighting, rescued the second wounded Marine, and later single handedly fought off an enemy attack. So impressed was his platoon lieutenant that he pledged to recommend Naimo for the Navy Cross, the nation's second highest award for gallantry in battle. Tragically, the platoon lieutenant was killed two days later and the award for Cpl. Naimo's actions never materialized.
Until now.
Seventy years after his courageous actions, the U.S. Marine Corps awarded him the Silver Star Medal, our nation's third highest award for "acts of gallantry against enemies of the United States". Created by an act of Congress during World War I, the Silver Star got its name from 3/6th inch star emblazoned in the center of the medal.
The first Silver Star was awarded seven times to General Douglas MacArthur in 1932 but his was not the most ever received. Army Colonel David Hackworth received ten Silver Stars for his deeds during the Korean and Viet Nam Wars. Other famous recipients include Army General George Marshall and former Lieutenant Colonel Oliver North. To date, over 100,000 awards have been made to military and civilians recognizing their selfless service.
Please consider showing your support for today's heroes by contributing funds to Support Our Troops' Patriot Brigade®.Here you will join thousands of patriots who make monthly donations to pay for comfort items and recreational programs for our military deployed overseas. Please go to our secure website https://supportourtroops.org/donate to contribute to America's finest today!