FROM WWI TO IRAQ
AMERICA HONORS ITS FLYERS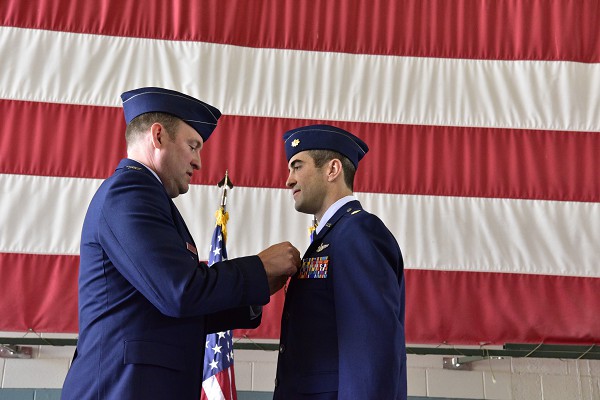 Kirkland Air Force Base, N.M. (September 21, 2022): It is an honor dating to the birth of military aviation, to the World War I ace who dueled above the skies of Europe, and the countless acts of heroism that were common in the "Great War". Since that time, the military has bestowed the Distinguished Flying Cross to over 4,000 American flyers, the first given to none other than Charles A. Lindbergh. "Lucky Lindy" received the award for his historic solo flight across the Atlantic in May 1927 in his single engine plane the Spirit of St. Louis.
Established by an act of Congress and signed into law by President Calvin Coolidge, the Distinguished Flying Cross is the second highest honor given to servicemembers in the U.S. Military. The honor is granted to servicemembers who distinguish themselves for heroism while "participating in aerial flight involving action in the face of danger well above the actions of others in similar circumstances. This extraordinary achievement must be so exceptional that is clearly sets the recipient apart from their colleagues."
A shining example is the derring-do of then Captain Michael Tolzien of the Air Force's 58th Special Operations Wing for his actions while deployed to Afghanistan. Responding to Special Operations units who were isolated and under heavy enemy fire, Captain Tolzien air dropped over 1,600 pounds of combat-critical supplies to the beleaguered special forces who, without this support, would be overrun. Flying as low as eight hundred feet and after his aircraft suffered multiple hits, Captain Tolzien's delivered ammunition and vital medical supplies within fifty meters of his target. His quick decision making and courage under fire saved lives (tragically, Sergeant 1st Class Matthew McClintock of the Washington National Guard was the only casualty of the attack that day).
Loyal Americans swell with pride on reading about these feats of bravery. You can show your support for today's heroes by contributing funds to Support Our Troops' Patriot Brigade®.Here you will join thousands of patriots who make monthly donations to pay for comfort items and recreational programs for our military deployed overseas. Please go to our secure website https://supportourtroops.org/donate to contribute to America's finest today!