"NO ONE IS CONCERNED ABOUT THEMSELVES."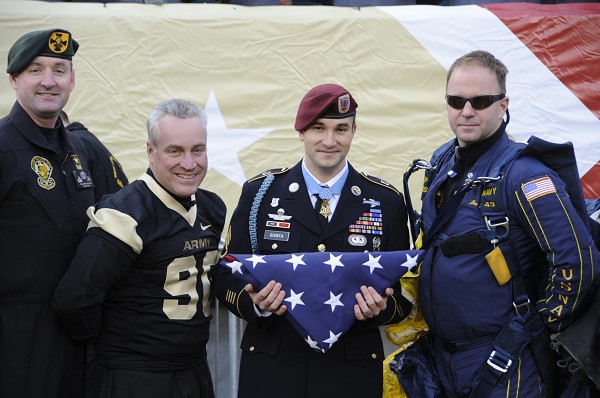 Lincoln Financial Center, PA. (December 11, 2010): Army Staff Sergeant Salvatore "Sal" Giunta is presented the U.S. flag by Navy Parachutist Jim Wood (Right) assisted by members of the famous Army Golden Knights parachute team. SSgt. Giunta was awarded the Medal of Honor for distinguishing himself by acts of gallantry at the risk of his life above and beyond the call of duty in combat operations against enemy forces in Afghanistan.
Lincoln Financial Center, PA. (December 11, 2010): Surrounded by fellow parachutists, Staff Sergeant Salvatore "Sal" Giunta basked in the glory and admiration of a grateful nation recently when he was presented the American flag at the 111th Army-Navy game, SSgt. Giunta became the only living servicemember to receive the Medal of Honor in 40 years.
He's that lucky.
Assigned to B Company, 2nd Battalion, 503rd Airborne Infantry Regiment, 173rd Airborne Brigade Combat Team, SSgt. Giunta was on his second deployment to Afghanistan when he and his comrades were ambushed by enemy forces in the rugged Korengal Valley, Afghanistan on October 25, 2007.
SSgt. Giunta's platoon was attacked by 10 to 15 enemy fighters using rocket propelled grenades, machine guns, and AK-47 rifles immediately wounding two Americans. While SSgt. Giunta directed fire against the onrushing enemy, his squad leader was struck in the helmet by an AK-47 round and fell to the ground. Without regard to his own safety, SSgt. Giunta left his covered position to provide aid to his fallen comrade only to be struck by two bullets, one hitting his body armor and the other striking his weapon.
He quickly recovered and immediately rallied his squad forward to engage the enemy. Pinned down by enemy fire, SSgt. Giunta noticed his teammate, Sgt. Brennan, was missing. Despite intense enemy fire, SSgt. Giunta overtook two enemy fighters attempting to drag an incapacitated Sgt. Brennan into captivity. SSgt. Giunta engaged the first enemy combatant at close range killing him which caused the other to drop Sgt. Brennan and flee. SSgt. Giunta began first aid and prepared him for evacuation.
His selfless actions changed the tide of the battle, and he saved multiple paratroopers lives that day. Staff Sergeant Giunta was presented the Medal of Honor by President Barack Obama in a White House ceremony. When asked by a Associated Press reporter why he risked his life for his comrades, SSgt. Giunta replied " No one's concerned about themselves in that situation. Everyone is concerned about the person to their left and the person to their right. I am for them. They are for me."
SupportOurTroops.org was privileged to be asked by Sal Giunta's family if it would function as the facilitator and clearing house for all of the funding donations for the ceremony with his fellow soldiers following the award of the medal. As always in such situations SOT performed that duty with a 100% pass through simply acting as a disbursing agent receiving and sending the money where it needed to go so the family and his fellows could focus on the historic event, not have to bother with the underlying details.
Please consider showing your support for today's servicemembers deployed overseas by contributing funds to Support Our Troops' Patriot Brigade®. Here you will join thousands of patriots who make monthly donations to improve the lives of our servicemembers and their families. Please go to our secure website https://supportourtroops.org/donate to contribute to America's finest today!